ALMÜ Offers Complete Solutions for Production
ALMÜ Präzisionswerkzeug GmbH has been using NUMROTO software for 26 years and has been a partner of NUM's from the very beginning. The tools ground with NUMROTO often form a part of the complete solution which ALMÜ develops with their end-users for their own production needs. True to their motto: everything from one source. With NUMROTO, ALMÜ provides a uniform programming environment for use on their wide range of machinery. This benefits not only the tool grinding experts but also the trainees.
Customized special solutions are essential at ALMÜ
ALMÜ does not focus on making a standard set of tools, rather the focus is on special high-precision and tailor-made tools. The customer base includes companies from the automotive, mechanical engineering and aerospace industries.
ALMÜ was founded in 1976 by Alfred Müller. In 2007, his son Markus Müller took over the management of the company. The company is based in southern Germany in Zell unter Aichelberg. An important milestone was reached in 2019 with the move into the new building. With almost 50 employees, ALMÜ focuses on speed, precision, flexibility and innovation in addition to the use of state-of-the-art production technologies. In the beginning, the tools were made for grey or nodular cast iron, though today they are mainly made for aluminum. The company's philosophy is embodied by Mr. Müller and his innovative employees.
To be able to offer today's customers with precisely tailored tooling solutions requires technical competence, but also creative and innovative ideas. This often results in completely new tool shapes that offer high productivity and cost efficiency. The solid carbide tools manufactured by ALMÜ are characterized by polished chip chambers, individual cutting edge design and extremely precise grinding. Thanks to the use of NUMROTO, the geometry of the tools can be designed optimally.
NUMROTO in use since 1994
NUM CNC control with NUMROTO is used widely in ALMÜ's facility. The company started with NUMROTO DOS back in 1994, but now is using the latest NUMROTOplus® version. Thanks to constant updates of the software and NUM's ability to enhance the software with additional options, older machines can still be used with NUMROTO to a high standard. Mr. Markus Müller, Managing Director of ALMÜ, clearly sees strength in the fact that NUMROTO can be supplemented with new options at any time, meeting new customer requirements. He makes it clear: "NUMROTO is the soul of the tool grinding machine. If the software is up to date, we are able to manufacture any special tool."
Mr. Uwe Czommer, production manager, says: "We rely completely on NUMROTO. We now have well over 10,000 tools in our database, mainly drills and step drills, but also form cutters. All with special features, of course." Before NUMROTO, tools often had to be ground in many individual machining steps; since then, everything can be ground from a blank in one clamping. The on-going development of the NUMROTO software and options that are available are highly appreciated. Likewise, 3D simulation and NUMROTO Draw have become indispensable in production. With the integration of the 3D workpiece simulation including animation of the grinding process and the collision monitoring with 3D machine simulation into the NUMROTO CNC software, a consistent and highly functional solution is created that is easy to use.
NUMROTO Draw creates uniform and realistic product documentation for existing and new tools. This is generated almost completely automatically, which saves time and costs for the end-user. For example, NUMROTO Draw automatically generates the tool outline and the drawing header. This is particularly useful for small runs and resharpening jobs. The software has been greatly enhanced now that it can be used for very demanding tools with multiple section views.
Measuring probe tip
ALMÜ also uses the versatility of NUMROTO to grind special parts, such as probe tips, which are made of steel. These parts are used in tool grinding machines, along with other applications. The precision of the probe tip is always critical to getting an accurate measurement.
Everything from one source
Tools and work fixtures are two devices always used in conjunction with each other. The tool usually comes from the tool manufacturer, while the work holding comes from the fixture manufacturer. When adding engineering, technology, and programming to this; ALMU refers to it as the "all-in-one principle". Only one contact person is required and all processes are coordinated. Mr. Müller posits: "An orchestra does not live from a violin alone, but from the perfect interaction of all instruments. This is also the case when developing a complete solution for production."
This can be easily explained using the battery tray of an electric car. In order for it to be drilled and milled on a machining center, it must be clamped to a high degree of precision. ALMÜ, therefore, develops and manufactures not only the tools (such as the drills, step drills, and form cutters required), but also the complete clamping device, including the associated engineering. Thanks to this holistic solution, the machining strategy can be efficiently designed and optimized. The "all-in-one" principle includes:
Creation of tool plans
Definition of machining strategies
Determination of the machining parameters
Time studies
Tool design
Complete engineering
Production of tooling packages
Solid carbide tools, PCD tools, WP tools
Completely assembled, balanced and adjusted tool packages are delivered together with measurement reports
Typical tools and special tool solutions
CNC programming
Service and logistics
This adds value for the customers due to the synergy of the principles above.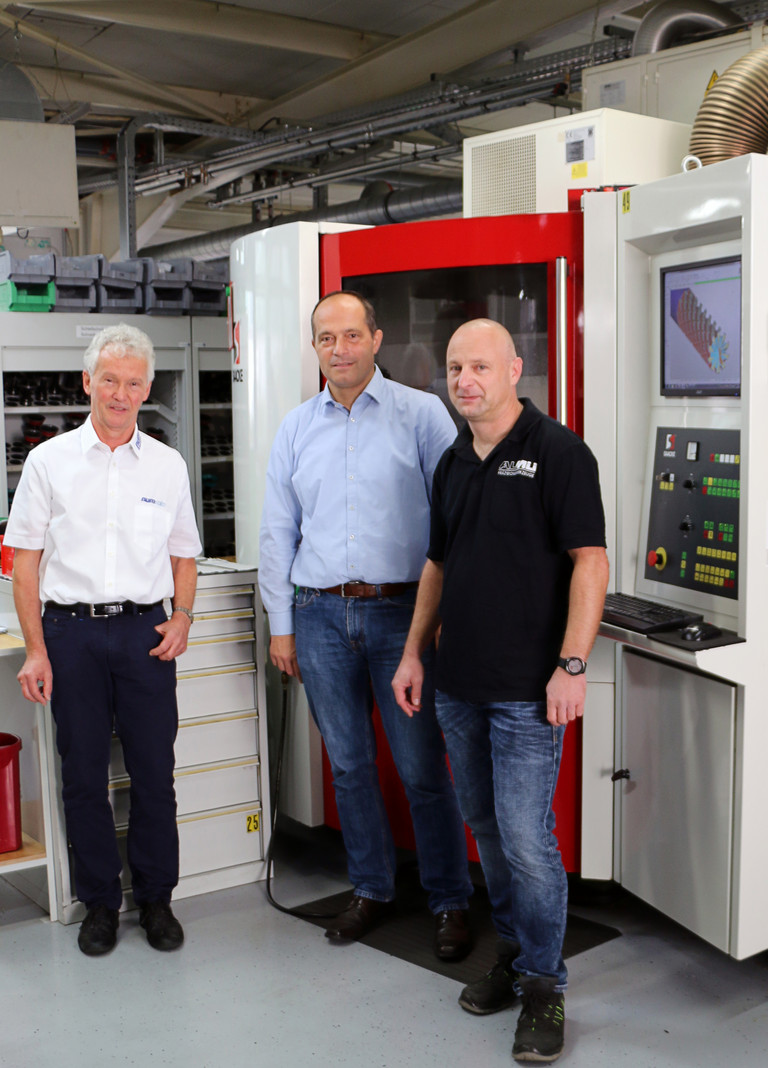 Focus on values like education and sustainability
ALMÜ trains up to five precision toolmakers per year. Great importance is given to ensuring that the trainees get to know the NUMROTO software systematically. Initially, they train on cylindrical grinding machines, and then move on to universal tool grinding machines. Thanks to the uniform user interface, the system is easy to learn. By the end of the apprenticeship, the trainees should be able to produce solid carbide tools on their own. This requires innovation and creativity along with manual skills to succeed.

ALMÜ is not only thinking about the future during training, they are also focused on sustainability. With a state-of-the-art cooling oil treatment and filter system, the environment is protected to the greatest possible extent and resources are saved. For decades to come, this investment will be crucial to production and the environment. At ALMÜ, environmentally compatible action and sustainable management is an important element of corporate policy.
High market presence also in the future
ALMÜ and NUM will continue to work together. Mr. Müller affirms: "With NUMROTO every crazy idea can be realized. So we have a strong presence on the market and convince with our innovation and highest precision."