50% time saving in wooden beam processing – thanks to ingenious woodworking center
The new Flexium controlled Techno Turn wood processing machine from Essetre, featuring two independent double exit milling heads, is able to process all 6 faces of the beam without turning it. This means that the time that was needed up to now to work on a wooden beam can be reduced by 50%. This is because the wooden beam does not have to be turned or replaced to finish the work, as the work can be done simultaneously on two of its sides. There are almost no limits for wood processing on the Techno Turn, thanks to the brilliant machine construction of Essetre combined with the control flexibility of the NUM Flexium CNC system.
Essetre S.p.A. was founded in 1979 in Thiene, in the North of Italy, and began its business by designing and manufacturing woodworking machinery, with particular attention to kitchen processing. NUM has cooperated closely with Essetre in the development and production of machines for woodworking since 1981.
Today, Essetre is an established company, well-known on the Italian and foreign markets, and renowned for its innovative ideas, specifically with regard to the design and manufacturing of multi-purpose working centers for the processing of wood, plastic and light alloys.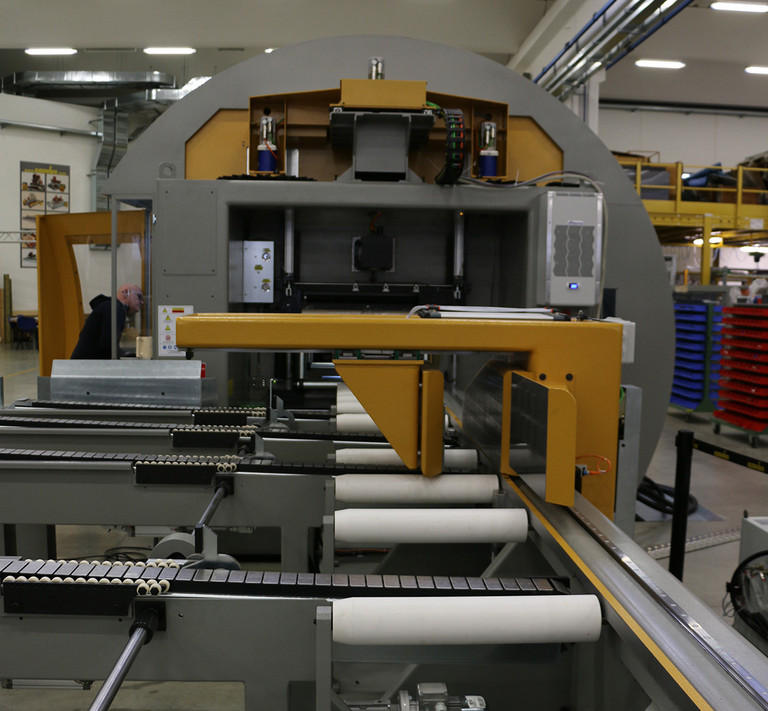 The working centers, studded with advanced technologies, structures and software, meet the requirements of numerous production fields: from kitchen manufacturers to window and door manufacturers, joinery companies to carpenters, chair manufacturers to companies working in the building industry, and from furniture manufacturers to sofa manufacturers. The working centers, often special because they are built to satisfy individual customer's requirements, meet the needs of craftsman as well as big companies, with single or completely automatic in-line machines which guarantee flexibility, highest quality and productivity. When such broad functionality machines are developed, the CNC control also has to be many-sided and flexible in use, which is guaranteed on this machine by NUM's Flexium CNC system. Essetre is constantly at its customers' service, first by analyzing the working center that is most suitable for their needs, then with a highly responsive and professional after-sales service. Its new industrial structure, inaugurated in 2013, is today the guarantee and point of reference worldwide, as well as the engine for achieving more goals and innovation.
The Techno Turn machine has 12 axes and 2 spindle motors on which 4 tools – like saws, milling cutters or drills – are mounted, one on each side of the spindles. The 12 axes are driven by NUM Drive C drives, which control the BHX motors using absolute encoders. Each of the 2 powerful spindle motors offers up to 45 Nm of torque, which allows the operator to utilize large saw blades for fast and powerful woodworking. The spindle motors were developed by Essetre themselves and are therefore perfectly matched to the concept of this innovative machine. The Techno Turn is controlled by a Flexium CNC system from NUM. It is equipped with an RTCP function that is specially personalized for Essetre, so that both heads with the spindle motors are able to work synchronously at the same time (interpolation). Due to this working method, the wooden beam does not have to be repositioned once the machine has started working. This results in a time saving of about 50%, compared to conventional working methods in this field of work. In fact, because the two working heads operate simultaneously, no time is wasted when one of the heads needs to change a working tool at the tool loader. This is a big advantage compared to competitors' machines in this specific market.
The Techno Turn machine is able to work 24/7 as an assembly line production machine. This gives users the opportunity to save money and time. Machine downtime is limited to maintenance tasks. The machine is also very compact, which is an advantage for customers, because the space which is needed for this machine is less than that of other woodworking centers on the market that are capable of handling this kind of work.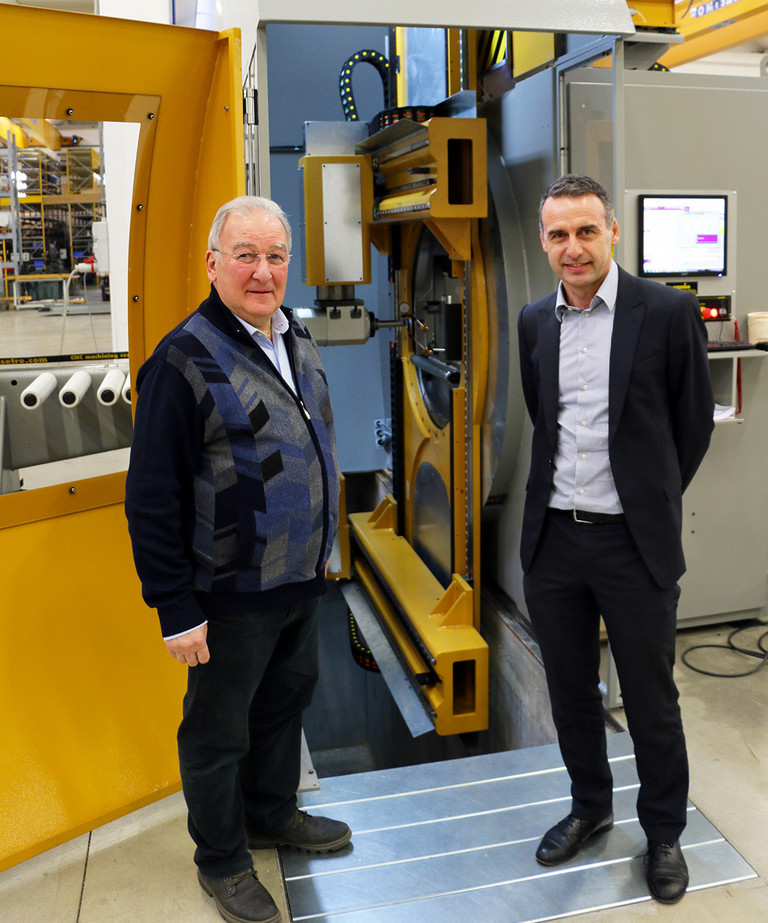 The HMI, which which runs in in the back-end of the Flexium CNC-System, was also developed by Essetre themselves. The operator is kept simple and is easy to learn, so any woodworking operative can handle the machine in a short time period. It is also possible to read CAD plans, which are produced by architects or engineers, directly into the machine. The Techno Turn then automatically generates the machine control program directly from the CAD data, so all the operator needs to do is to start the machine. The ingenuity of Techno Turn demonstrates yet again, that if niche market partners work closely together to create a new, innovative machine, which simplifies the working process for the end user in a significant way, they will certainly gain a competitive advantage in the market.