EuropTec – high precision from Switzerland
EuropTec has grown from a Swiss family business to a globally operating industrial supplier of high precision glass and plastic components. NUM Flexium CNC systems have helped the company to shorten and optimize a critical production process, increasing throughput dramatically. This increased productivity gives EuropTec a major advantage in the highly competitive automotive supplier industry.
Competition in the automotive supplier industry is fierce. Companies need to produce high quality products at affordable prices to stay ahead of the game. To help meet these objectives, EuropTec employs advanced manufacturing automation to ensure its production processes operate at peak efficiency. Its most recent addition is a high throughput water jet cutting machine, for producing laminated glass screens used in the central information displays of automobiles.

Made by a European manufacturer, the water jet cutting machine has three cutting stations, each with its own cutting head; these operate in parallel and concurrently, but instead of being rigidly joined to one another are controlled individually by a NUM Flexium CNC system. The machine has 17 CNC axes which are divided into four channels. Three of the channels accommodate 5-axis interpolation with RTCP (rotating tool center point) and tool correction functions.
All three cutting stations are separately loaded with laminated glass plates; each plate is pre-printed with borders for multiple display screens. A special procedure uses camera sensors to determine the exact positions of the display screens and passes this information to the NUM CNC controller, which calculates the starting point for each of the cutting heads. All three cutting heads then move in parallel to their respective starting positions and begin cutting in synchronism. The cutting heads' ability to operate independently, but in parallel, is essential for production efficiency and high work quality. If the individual cutting heads were rigidly connected, it would be impossible to cut pre-printed display screens from three separate glass plates due to the tolerances involved. This would necessitate each display screen being printed separately after cutting, which is inefficient and time-consuming. The glass plates would also have to be aligned precisely, which is difficult to achieve and would further add to production costs.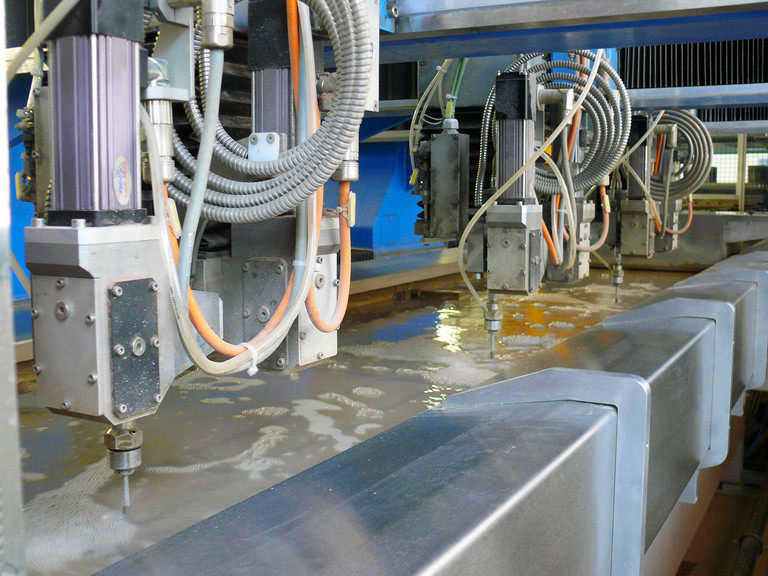 EuropTec is currently using the machine to produce glass screens for the central information displays in luxury class and top of the range vehicles made by a German automobile manufacturer. For this application, it is particularly important that the glass does not have any shiny reflective patches, which could be distracting for the driver. The edges of the screens are therefore cut by tilting the water jets at an appropriate angle to ensure that reflections do not occur. This is the type of small but extremely important detail that helps distinguish high end vehicles from less expensive models.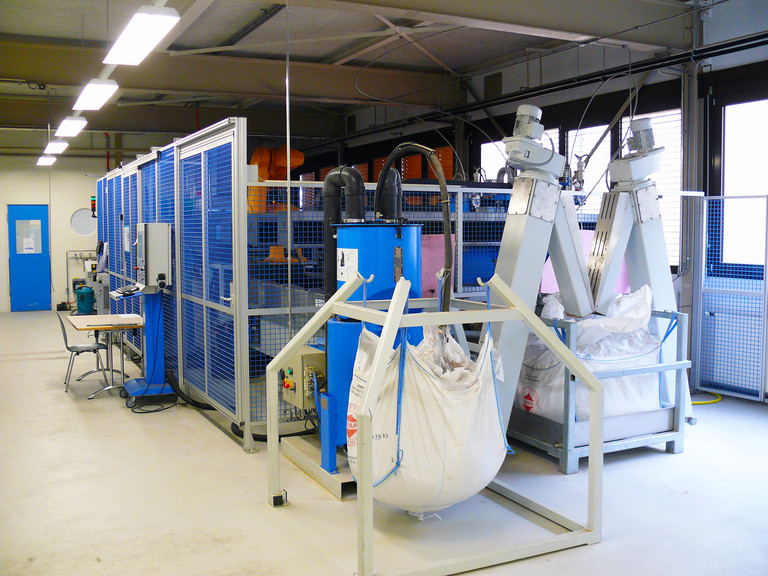 The water jet cutting machine is run 24 hours a day, during which time it produces approximately 2000 glass screens. "Europtec offers far more than just glass and plastic, and is renowned as an 'added value' supplier. This sets us apart from the competition", says Thomas Wechsler, Head of Operations at EuropTec AG in Oftringen. "EuropTec machines, coats, prints, bends, sticks, laminates and assembles glass, ceramic, transparent and industrial plastics in all kinds of variations. Our customers benefit from this vast amount of expertise, which we have accumulated over many years of experience."