High speed laser cutting machine uses novel CNC techniques to accelerate throughput
CNC specialist NUM is helping Grupo Plasma Automation – one of Latin America's top fabrication equipment manufacturers – to develop an innovative high speed laser cutting machine that uses real-time adaptive height control to accelerate throughput.
Grupo Plasma Automation comprises eight companies that specialize in the design and manufacture of fabrication automation. The group produces a broad range of plasma, laser and water jet cutting machines. Founded in 1991, GPA has grown steadily over the years and has built up a large and prestigious customer base; it has more than 700 cutting systems installed at companies in Mexico alone, and nowadays serves both the domestic and international markets.
GPA's latest CNC laser cutting machine is designed to provide sheet metal fabricators with an ultra-flexible precision cutting solution. Branded SPEED CUT, the machine is capable of cutting a wide variety of metals with different densities, including galvanized iron, aluminum, brass, stainless and carbon steel. It has a work area of 1.5 x 3 meters and a maximum cutting speed of 120 meters per minute, with 40 microns positioning accuracy. The system delivers extremely smooth operation even at high speeds.
To help maximize performance and reliability, GPA's new cutting machine is based entirely on industry-leading laser and control technology. The laser source is a 2 kW IPG Photonics' solid state ytterbium fiber system, with a wavelength of 1.07 micrometers, while the cutting head is a Precitec LightCutter 2.0 unit. This particular cutting head is renowned for its dynamic performance – it features automated motor-driven adjustment of the axial focus position, can handle acceleration rates as high as 3 g, and covers a large focus position range of 23 mm.

All cutting head positioning functions on the machine are controlled by a NUM Flexium+ 8 CNC system. According to Omar Sandoval, Owner and CEO of GPA, "We chose to partner with NUM mainly because of its open architecture CNC platform and NUM's willingness to actively participate in joint development projects such as this."
All four machine axes are driven by NUM high torque BPX servomotors controlled by NUMDrive X digital servo drives; the Y1 and Y2 gantry axes are equipped with powerful 9.8 Nm motors, while the X and Z axes have smaller 2.7 Nm and 1.4 Nm motors, respectively. NUM's Flexium Tool commissioning software allows the Y1/Y2 axes to be tuned while the synchronization is active, which provides a very powerful means of maximizing performance and precision.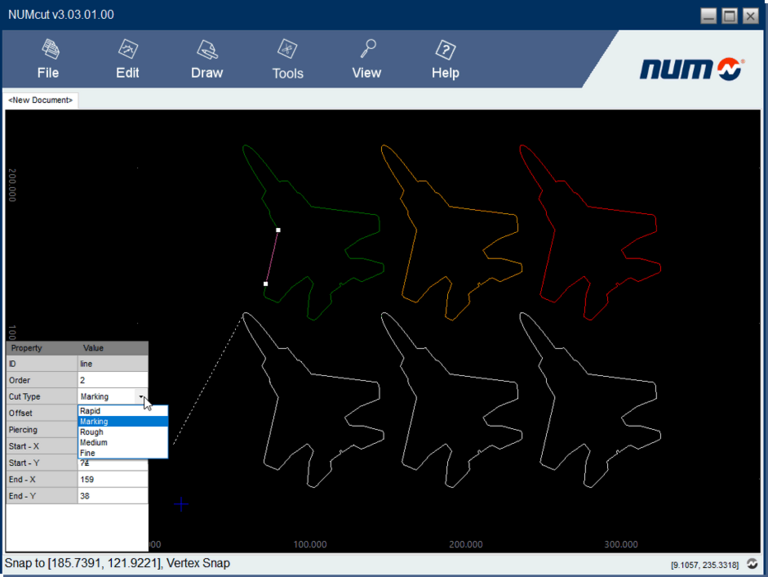 The Z axis controls the vertical height of the laser cutting head above the sheet of metal that is being cut. By capitalizing on the unique 'Dynamic Operator' (DO) function in NUM's Flexium software – which enables event-driven machine cycles to be integrated into the real-time CNC kernel – the user of the speed cut machine benefits from an automated dynamic height control system that accommodates extremely fast cutting speeds. The system interprets data from the machine's cutting head height sensor and uses it to very quickly adjust proportional-integral-derivative (PID) loop parameters in the Z axis servo. The height sensor is also employed to facilitate an automatic sheet detection routine: this determines the workpiece's dimensions, zero, and angular offset, further simplifying the machine's operation.
Steven Schilling, Managing Director of NUM Corporation in Naperville, Illinois, points out, "We are delighted to be collaborating with GPA in the development of this new machine. In addition to the real-time adaptive height control and sheet detection systems, the customized version of NUMcut software that we are providing features a user library of material cutting conditions. It is preloaded by GPA with the optimal laser power levels, cutting speeds, etc., as a function of material type and thickness. The provision of this library will further add to the machine's productivity and cutting accuracy."