Retrofitting with the Right Partners Pays Off
A well-equipped machine facility, regularly updated with the latest technology, is the backbone of every manufacturing company. This "rejuvenation" usually takes place through the procurement of new machines, but often also through machines that have undergone a comprehensive retrofit. These machines thus embark on a second life, like the Ceres 330 cylindrical grinding machine at Karl Bruckner GmbH, which was retrofitted by the specialist HDC Huttelmaier. Also on board: CNC and software manufacturer NUM.
With his innovation of the rotating center, Karl Friedrich Bruckner set significant changes in motion over 100 years ago. Today, the third generation at Karl Bruckner GmbH in Weinstadt, Swabia, is already responsible for the production of high-precision centers for turning and grinding as well as face chucks, face drivers and quills. The products are supplied as original equipment to renowned German machine manufacturers and to customers all over the world.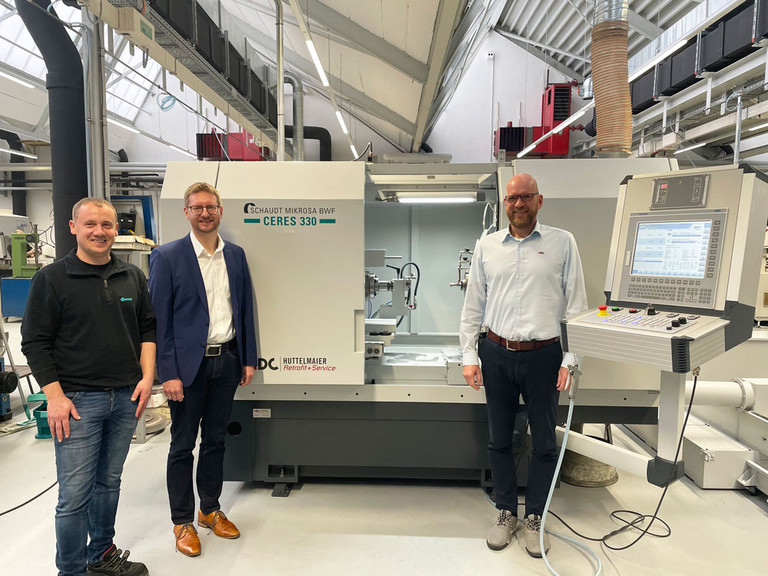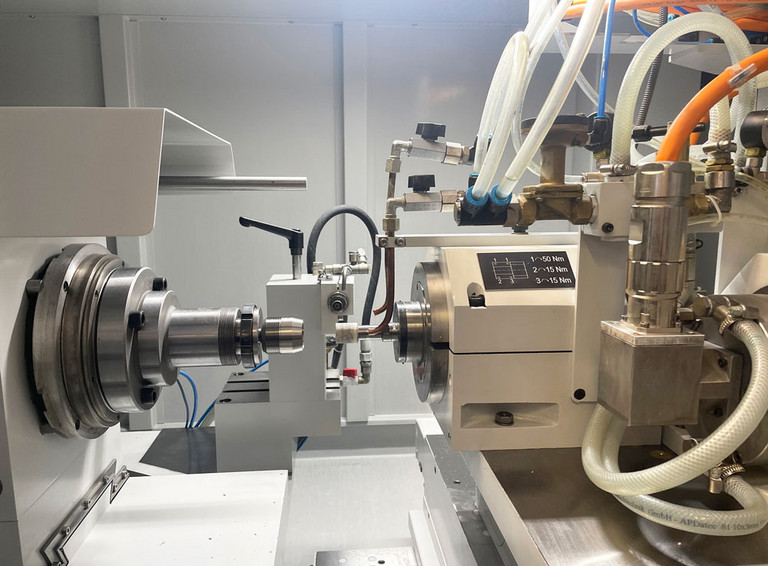 In the recently completed new building, 64 employees take care of all customer needs on an area of around 6,500 m2, including 35 well-trained specialists in production. The demands are high, as the precision required for the clamping devices must be achieved consistently. Production is carried out across all types of machining, using machines capable of achieving this high precision with robust process stability. To date, this has included the Ceres 330 universal internal and external cylindrical grinding machine from Schaudt Mikrosa BWF, which was purchased in 2004 and was designed for workpieces up to 300 mm in diameter.
Production foreman Marc Sigle, who is responsible for the smooth flow of production, is not only responsible for the machining performance of the machines, but also shares responsibility for their procurement and replacement. When it became challenging to achieve the required accuracy with the Ceres 330, Marc Sigle explored various options: "In terms of dimensional accuracy and process stability, the Ceres has been exemplary over the years. The machine has a relatively simple design, but was perfectly matched to our product and ran as a pure production machine for us all those years without any problems", recalls Sigle, who worked on the Ceres himself for several years and knows it inside out. As it turned out, this was advantageous in every respect.
At the time of purchase, the Ceres 330 was one of the last machines in its series. The manufacturer's entire machine program was then completely discontinued. When neither spare parts nor service were available any longer, the competent production manager Sigle had been able to handle many tasks himself over the past years. According to Marc Sigle, cost played a major role in the decision not to purchase a new machine, but to retrofit the Ceres 330 instead.
Compared to a new machine, a retrofit is roughly 50 percent less expensive. However, considering all the costs, the savings are even more significant. The opportunity to continue using existing tools and grinding spindles should not be underestimated. "We had a large number of suitable tools and four high-quality grinding spindles worth several 10,000 euros still in stock, which we would not have been able to continue using if we had bought a new one. That was a weighty argument for a retrofit", says Sigle.
Compared to a new machine, a retrofit is roughly 50 percent less expensive. However, considering all the costs, the savings are even more significant. The opportunity to continue using existing tools and grinding spindles should not be underestimated. "We had a large number of suitable tools and four high-quality grinding spindles worth several 10,000 euros still in stock, which we would not have been able to continue using if we had bought a new one. That was a weighty argument for a retrofit", says Sigle.
Additional arguments were presented by Jörg Huttelmaier, owner and managing director of the retrofit specialist and special machine builder HDC Huttelmaier, whom Marc Sigle had known from a successfully completed partial retrofit. In its own machine building plant in Schorndorf-Weiler - merely 12 km away from Bruckner - HDC Huttelmaier is currently upgrading used grinding machines to the latest state of the art, now in the third family generation. The extensive team of Huttelmaier specialists for maintenance, modernization, and overhaul of machine tools and equipment, and, if needed, qualified subcontractors, ensure a professional complete mechanical, geometrical, and electrical overhaul for every project.
Retrofit Challenge
The general question about whether retrofitting old machines is worthwhile is also affirmed by Jörg Huttelmaier. "One of the arguments in favor of a retrofit, apart from the lower costs, is that the machine operator knows the machine well and therefore does not need any training time. The space requirement remains the same, and as a rule the foundation can continue to be used", says Jörg Huttelmaier, adding, "Sustainability and recycling are important topics today. From an environmental point of view, a retrofit is always a good thing, because the CO2 footprint is much lower than with a new machine."
Jörg Huttelmaier continues, "Retrofitting is not about simply replacing all the old parts with new ones. Rather, a decision must be made with a sense of proportion and experience as to which process should be used where. Our retrofit procedures always start with a detailed survey of the machine and documentation of all damage. The machine is completely disassembled for this purpose. The individual measures and steps of the general overhaul and the customer's requirements are then recorded in a specification sheet, which is then agreed with the customer."
For the Ceres 330, the main challenge wasn't the condition of the machine, but rather the requirements of the machining programs - in other words, the control system. Initially, they considered replacing the old control system with a new one from the same manufacturer. But the program adaptations, which were essential for Bruckner, would have required an immense amount of programming because, among other things, special features for internal grinding and dressing were needed. However, this would only have been possible at an equally immense cost with the self-contained software packages provided by this manufacturer.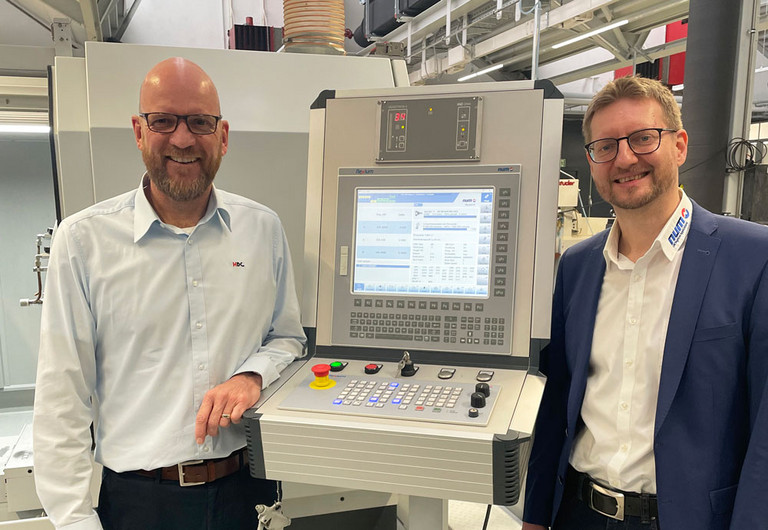 The HDC specialists had gained a picture of the requirements on site before the project began. "At HDC, we have our own programmers who write programs for a wide variety of control systems. But in this case, the effort and the associated costs went far beyond the normal level", says Jörg Huttelmaier. "Our assessment was that we needed a CNC control and software partner whose system was comprehensively flexible and open enough to implement the wide range of machining requirements that Bruckner had for the Ceres 330."
For this problem, Jörg Huttelmaier used his contacts to Marc Riedl, sales manager for southern Germany at the control and software manufacturer NUM. The intensive discussions revealed that NUM was exactly the right partner for the application at Bruckner.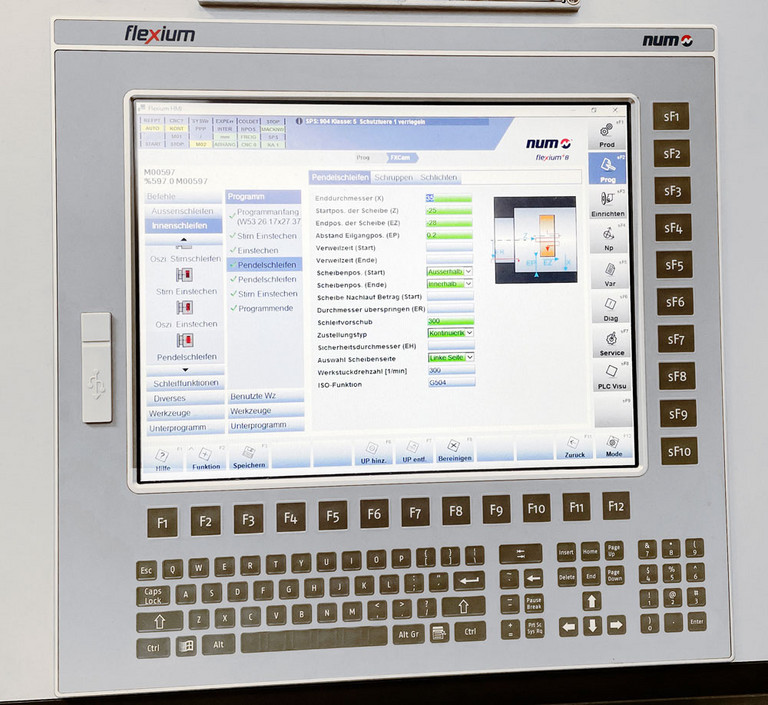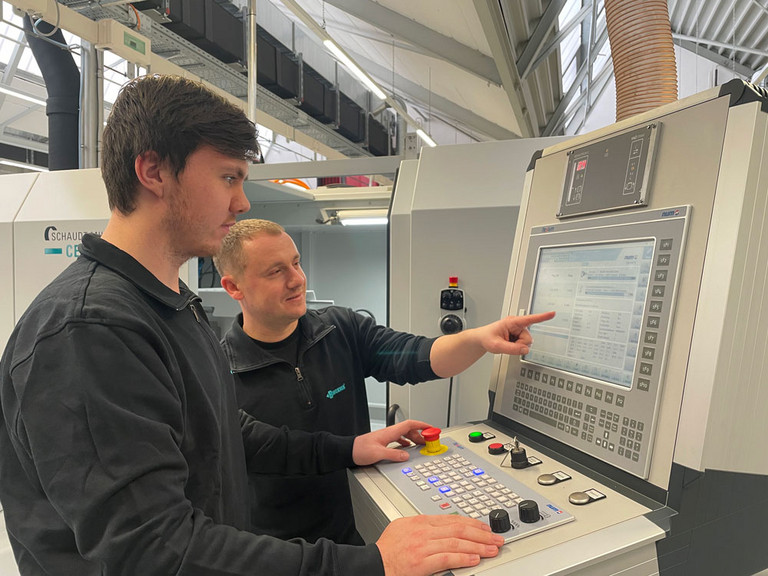 Control software that leaves nothing to be desired
NUM has a global presence as a manufacturer of high-end CNC solutions and is particularly successful in the markets of Asia, the USA, France, and the Scandinavian countries. In Germany, Austria, and Switzerland, the company is primarily known for its control software, which is available in different variants for milling, turning, grinding operations, and gear cutting.
The Swiss company, headquartered in Teufen, offers a wide range of perfectly matched products such as CNCs, drive amplifiers, and motors. In addition, they provide training, support, and service lines. NUM CNC controls are characterized by a complete openness of the system to the operator, enabling easy implementation of their know-how and perfect adaptation to a wide range of machines. To fully leverage this flexibility, NUM provides the necessary development tools, or the NUM staff can implement special functions according to customer specifications and put them into operation.
At NUM, the focus is always on the customer's needs. This means that the various HMI are pre-configured, but can be adapted depending on the application. A team of specialists at NUM takes care of this customization work. "Our scalable and flexible Flexium+ series CNC systems are excellent for retrofitting because they can be perfectly adapted to any need and any machine", Marc Riedl elaborates.
"With support for over 200 axes, more than 40 channels, 4,000 EAs, more than 1 GB of PLC memory, and over 30 MB of CNC user memory, Flexium+ is easily capable of controlling even the most demanding applications. So we were also able to easily meet Bruckner's diverse requirements and integrate any desired machining."
NUM operates three independent technology centers with application departments where customer-specific solutions are developed, one of them in Holzmaden, Swabia. "A special feature is that our three technology centers are in active exchange with each other", says Marc Riedl. "Therefore, recurring customer adaptations are integrated into each of the new versions that are released each year; only very customer-specific details are left out here. In this way, our systems are always one step ahead of the market."
The software package used at Bruckner is the workshop programming solution NUMgrind. This offers an almost infinite variety of possibilities in grinding and contains many ready-made features for cylindrical and non-cylindrical grinding as well as dressing. These can be easily adapted by the operator to the specific grinding needs with intuitive workshop programming and 3D visualization.
The retrofit measures in detail
The Ceres 330 was in relatively good condition, particularly in terms of sheet metal parts such as the housing, so repainting was sufficient. During the mechanical overhaul, the ball screws and the roller recirculating unit were replaced in the X1 and Z1 axes. Worn and defective parts were replaced in the workpiece spindle slide and workpiece headstock, as well as in the pneumatic system, the oil-air lubrication system, and the coolant system. New absolute measuring systems were installed.
The electrical equipment, including the control cabinet, cabling, and control panel, was completely renewed. Additionally, new drives and electric motors, as well as a new CNC control with suitable software, were installed. The entire retrofit ultimately took eight months. Since July 2022, the Ceres 330 has been back in full operation at Bruckner.
Marc Sigle is very satisfied with his new machine. "For one thing, the machine is as reliable as a new machine in terms of process reliability, repeatability, and precision. The software provides support especially for taper grinding, in the area of face pendulum grinding, and grinding from both sides in a way that the old control could not. Radius and contour grinding are now possible without any problems. Grinding processes are more variable, programming is faster. The on-site support was great, but we also communicated with NUM a lot via Team Viewer."
The conclusion of the three partners? "Good teamwork", says Marc Sigle, praising the joint project. "The proximity to the retrofitter HDC and the associated possibility of running tests at any time were unique. Marc Riedl adds, "We established a good partnership during the project and incorporated the customer's suggestions and requirements during the process. In the future, new developments from our company can easily be incorporated at Bruckner. In this way, the control system always remains up-to-date." Retrofitter Jörg Huttelmaier sums up: "The challenges in this project were quite significant. But when the right partners with the best know-how come together, as they did here, then nothing can really go wrong.