IMA intensifies collaboration with NUM
The contractual agreement of the cooperation between IMA and NUM continues the success story for customers in the wood processing and manufacturing industry.
For over 50 years, IMA Klessmann GmbH has stood out with its consistent innovations and trendsetting mechanical engineering and as an important partner in the wood processing and manufacturing industry.
Company headquarters are located in Lübbecke which is about one hour from Hanover and it employs approx. 850 staff in more than 60 countries. Strong customer-orientation, flexible machining concepts and its own patents are the foundation of this very successful company with which NUM has been a firm partner for many years. This long-standing cooperation between IMA and NUM, and the mutual trust between both companies was confirmed decisively with the signing of a two-year cooperation contract at Ligna 2007, in Hanover. "When we found out that NUM and Schneider had separated, we were not at all sure whether this was the right company for us and our customers. We considered some other options but at the same time we were watching NUM's development very closely" the sales team manager, Dieter Dresler, declares quite openly. "NUM has developed extremely positively and is for us today an important, professional partner more than ever before."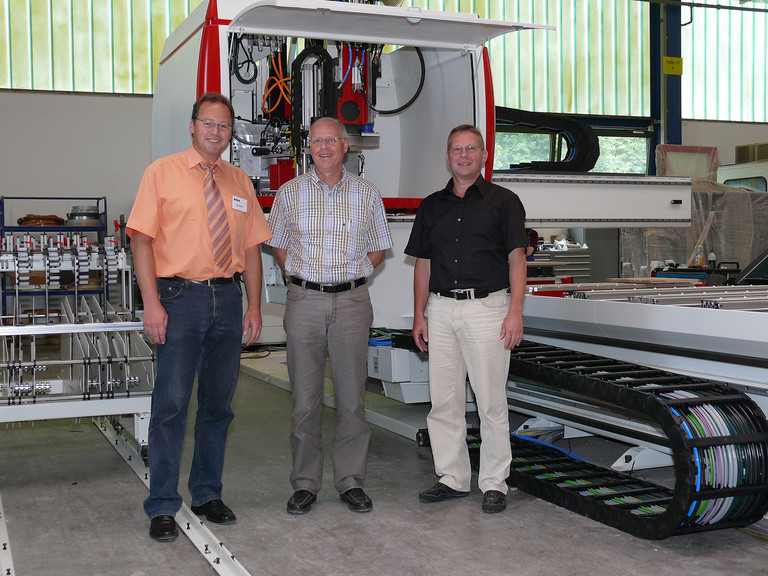 Both companies expect a lot from this strategic bond. Economic efficiency is an important part of this. To follow up signing the contract, IMA visited the NUM production site in Cuggiono, near Milan. The reactions from IMA were extremely positive – it is clearly and excellently organised as well as flexible. "A surprising number of our requests and ideas were already there to see or in the process of being implemented." confirms Jörg Böhnke, head of material management. There are also very low CNC failure and fault rates and for the whole drive, as well as the reduced times for procurement, which was contractually agreed.
Increasing the existing technical cooperation between the two companies is also a priority. Problem-solving and specific, project-related work is already undertaken together or contracted by NUM. For instance, the lead axis interpolation of a contour machine or integrating a measuring/button cycle for automatically adjusting milled surfaces for specific workpieces. "We expect new impulses and results in innovation and technology and a closer collaboration in developing other ideas and themes. The new, powerful CNC by NUM is a central element in this." elaborates Günter Redeker, head of E-development. The cooperation agreement with IMA continues the long, successful NUM tradition in the wood processing industry.