Koike Aronson and NUM partner to produce precision 5-axis bevel head for acclaimed K-Jet waterjet system
CNC specialist NUM is helping one of the USA's top fabrication equipment manufacturers to develop an ultra-precise 5-axis bevel head for its market leading waterjet cutting system. This innovative engineering project will enable customers to use extremely fast abrasive cutting speeds to further increase productivity of their precision metal parts fabrication processes.
Koike Aronson, Inc. is a leading manufacturer of advanced cutting/ welding machines and positioning equipment. Founded in 1918, the company is based in Arcade, NY, USA. Capable of operating three manufacturing shifts per day, with up to 100 employees, Koike is renowned for its expertise in metal fabrication systems; its research and development resources include mechanical, electrical and software engineers with more than 250 combined years of design, process and technical experience.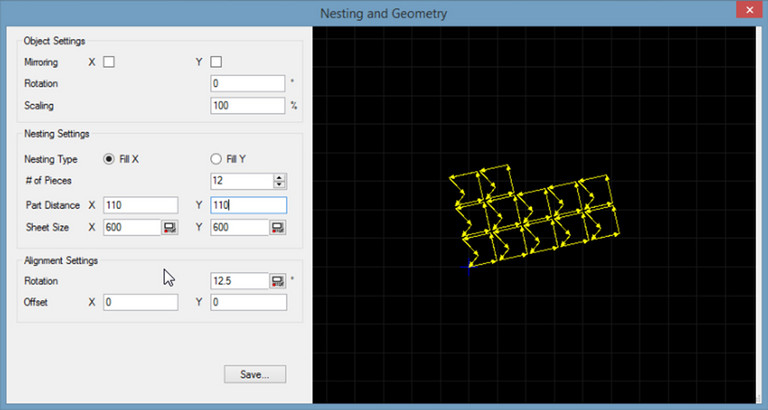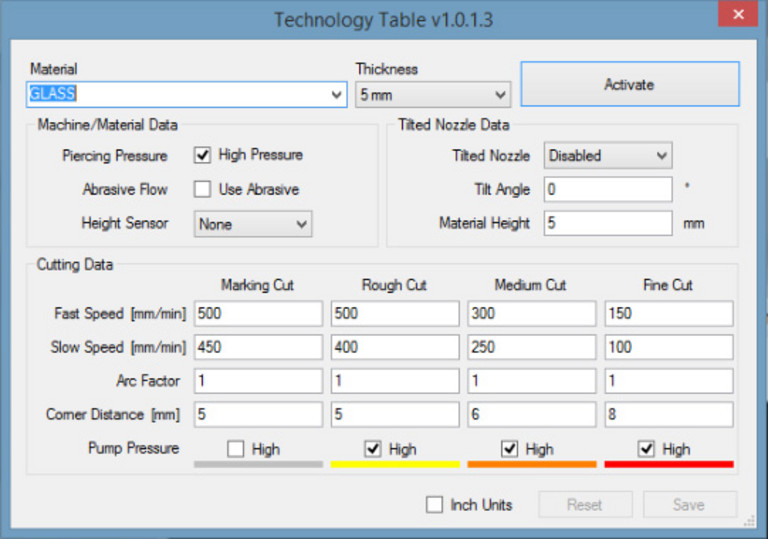 Koike's latest generation waterjet cutting system, the K-Jet, is designed to cut various types of material – including steel, aluminum, plastic and glass – without creating any heat-affected zones. There is a choice of five machine configurations, offering standard cutting areas up to 72 x 144 inches (1,829 x 3,657 mm), and three KMT intensifier pumps with pressure ratings as high as 90,000 psi, making it the world's fastest waterjet cutting system for straightline cutting.
Each K-Jet machine features a robust, floor-mounted cutting table with a load capacity of 125 psf (610 kg/m2), which is equivalent to supporting 6 inch mild steel. The tables employ a heavy duty precision machined main beam and saddles, fully enclosed air pressurized bellows, and hidden linear guide ways. There is a wide choice of optional Ebbco abrasive removal and closed loop filtration systems for efficient water management.
As part of its ongoing commitment to helping customers improve the productivity of their parts fabrication processes, Koike, in collaboration with NUM, has now developed an innovative and highly versatile 5-axis CNC bevel head for its K-Jet waterjet cutting system. The cutting head is specifically designed to combine ultra-fast movement with precision positioning capabilities and is available with pumps up to 60,000 psi capacity.
Koike chose to partner with NUM mainly because of its 'open' CNC architecture and its willingness to actively participate in joint development projects. As Koike Aronson Product Manager Tim Joslin explains: "Most CNC companies produce proprietary hardware and software, making it difficult to integrate third-party products. NUM, with its open architecture approach to CNC, is a notable exception to this practice. The company's Flexium+ CNC system, for example, readily interfaces to standard cutting software such as IGEMS and SigmaNEST, and its NUMDrive X servo amplifiers are fully compatible with the specialist direct drive torque motors that we build into our new bevel cutting head."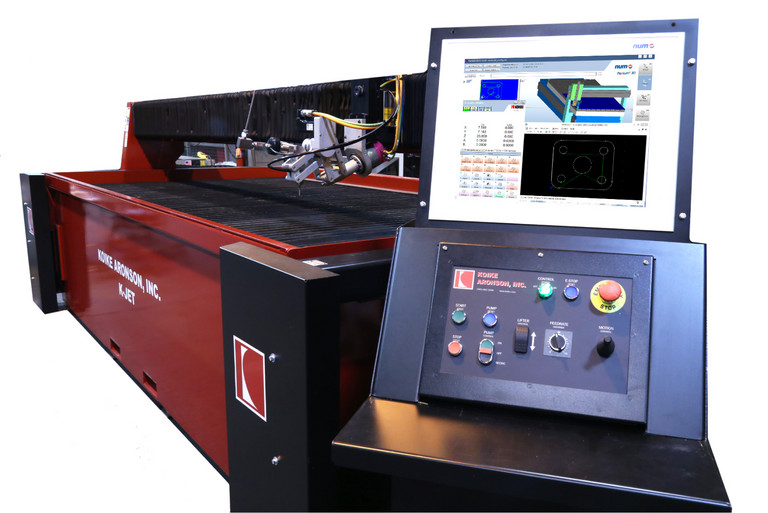 Based on NUM's powerful Flexium+ 68 CNC platform, Koike's 5-axis bevel head introduces an unprecedentedly high level of cutting performance. The overall system offers a linear accuracy of +/- 0.003 inch (0.076 mm) and a repeatability of just 0.001 inch (0.025 mm).
In addition to the 5-axis CNC system itself, which features interpolation and synchronization facilities on all five axes, as well as provision for a 6th axis, NUM is supplying four 1.2 Nm SHX series single cable servomotors, together with one smaller BPX series servomotors for the IGEMS head, each complete with its associated NUMDrive X servo drive. The company is also supplying the PLC hardware, equipped with 16 inputs and outputs and an EtherCAT gateway, and a large 19-inch touch screen for the cutting head's HMI (human-machine interface).
The CNC software being supplied by NUM includes specific waterjet cutting functions. The Flexium CAM Shapes library contains a large number of pre-defined common cutting shape forms, enabling the machine operator to quickly select the desired shape from the library, make dimensional inputs and create the motion sequence – without requiring knowledge of G-Code. Material types and cut types can then be incorporated to optimize the waterjet's cutting speed, and parts can even be nested using the on-machine block style nest feature.
The firmware in NUM's CNC system contains several optimized waterjet cutting functions, one of which is key to maintaining accuracy during high speed cutting. As Steven Schilling, General Manager of NUM Corporation in Naperville, Illinois, explains, "Our firmware has a built-in feedrate linear interpolation feature which can be used to smoothly ramp from one speed to another during movement. This produces a better cut quality by ensuring that material is completely cut through over the entire cross section – an especially important consideration when dealing with the extremely fast cutting speeds of Koike's new bevel head, in conjunction with NUM's tilted nozzle management feature."
Koike's new 5-axis bevel head will be on display at booth #236244 in the North Building, Level 3, at the IMTS 2018 exhibition in Chicago, from September 10 to 15.