25-year collaboration brings continued success
Meccanica Ponte Chiese is a family owned company with 40 years' experience in the field of mechanical machining. To help it stay ahead of competitors, the company has always used the most technologically advanced manufacturing solutions available. For the past 25 years, it has based its operations on high quality machines built by MCM, incorporating CNC technology from NUM. Business success and efficient management have enabled the company to invest heavily in its operations over the past decade, including provision of a new building and production system with a significant number of CNC machining centers from MCM – all equipped with NUM CNC high performance control systems.
The company handles precision machining of medium and large sized components fabricated from materials such as cast iron, aluminum and steel, involving the mechanical removal of shavings and comprehensive workflow management. Its principal markets are earth-moving vehicles, marine and industrial equipment, and printing and textile machines. Meccanica Ponte Chiese has the major advantage that its MCM machinery is ultra modern and incorporates advanced CNC technology, enabling it to stay one step ahead of its competitors through production flexibility; this same forward-looking philosophy is shared by NUM, which is one of the reasons that the companies' 25-year collaboration has proved so successful.
Most of the production process is automatic and computer-controlled, allowing the machinery to operate 24 hours a day with minimal supervision by the company's highly qualified staff. Each work piece is mounted on a pallet which is tracked by a computer system, with all work-in-progress temporarily held in high-rise storage racks. The pallets are automatically retrieved by CNC-controlled robotic handling systems, which transport them to the appropriate CNC machine for the machining process. This type of workflow management makes it easy to instantly ascertain the status and position of any particular work piece – at any time of day or night. The machine operator is able to see immediately on-screen which work piece is currently in production, as well as the position of any other work pieces in the storage rack.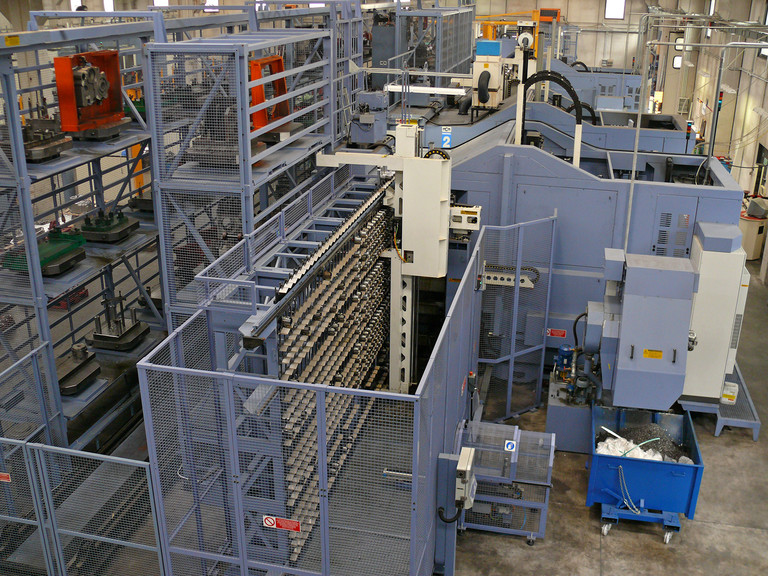 Meccanica Ponte Chiese implemented its latest CNC machine complex in 2011. The complex built by MCM comprises three interlinked 5-axis CNC machines, each equipped with a NUM CNC control system, NUM HP servo drives and NUM BPH series motors. Each of the three CNC machines has a high-rise tool rack holding between 400-500 tools, which means that the complex has access to approximately 1,300 tools! The CNC machine automatically searches for the required tool, and a CNC controlled robot then fetches the tool from the rack, transports it to the machine and mounts it ready for use.
A special computer program continuously monitors the condition of each tool. Providing the tool is in good condition, an on-screen image remains green; if the tool's parameters become critical because it has been used for a lot of production, the image turns yellow. However, if any of the parameters are outside tolerance measurements, the tool is blocked from further use and its screen image appears red, indicating to the operator that the tool needs to be exchanged.
Allocation of work pieces to particular CNC machines is also handled completely automatically. Each CNC machine has its own high-rise storage rack for work piece pallets; in the case of a multiple machine complex, the pallets are held in a single rack and the associated CNC controlled robotic handling system serves all CNC machines in that complex. As soon as the machining work is finished, the robotic handler returns the pallet to its appropriate position in the storage rack.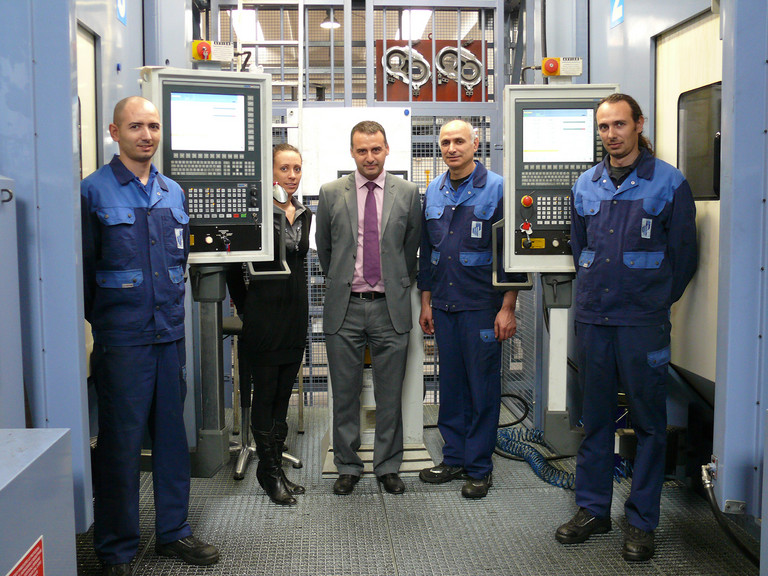 Giovanni Ferraboli, the founder of Meccanica Ponte Chiese, runs the family business with his wife and three children Gianluca, Mirko and Monica. Thanks to its highly flexible production infrastructure and small adaptable workforce – there are just 18 employees – the company is able to respond quickly to customer demands for small batch sizes. Meccanica Ponte Chiese has the major competitive advantage that it can produce high quality precision work, in small to large quantities, within a short timeframe and at a reasonable price. This is principally because the machinery is completely automated and computer-controlled, which minimizes changeover time between one type of production and another – and as we all know, time is nowadays the most valuable asset of all.