Innovative, 17-axis wood milling machine for chair seats
It is a special feeling to enter the foyer at MKM International after reception, when there are outside winter temperatures of -3° C. An impressive palm (lat. Phoenix canariensis) means a "Welcome" and you can escape winter, at least for a moment. A small fountain with seating invite you to hang around, they also serve as a place for brainstorming and as source of inspiration (of course, at all seasons). In general, the new office building, which was built around four years ago, is inviting and modern thanks to the light-flooded rooms. With headquarters in Bad Oeynhausen (Germany), between Hannover and Bielefeld, MKM International focuses on the development and production of innovative special machines.
MKM International was founded in 1998 by Michael Köhler. In 1999, the initial operation started with eight employees. Right from the start, MKM relied on NUM controllers and systems, something that remains the same right up until today.
Initially, CNC machines were developed in the field of solid wood processing, but over time machines were also added to the portfolio for processing plastics, light metals and steel, as well as punching machines. Today, MKM employs 60 people and in 2017, generated sales of approximately € 21.5 million. With the new construction of the office building as well as other conversions and additions, the premises of MKM experienced a doubling of usable space.
The creativity and innovation of MKM are not only reflected in the development and construction of special machines for customers, but also in solutions for in-house production. For example, new clamping jaws or replacement clamping jaws are manufactured overnight using 3D printing methods. A mold constructor is no longer required in this process, therefore savings are made on materials and rejects. The machining heads for the CNC machines are also manufactured independently by MKM, if this is not possible, they develop new solutions to meet customer requirements. All machine beds are relieved of stress, all machine axes have guide carriages with the highest pretension class of exclusively installed roller guides, incl. overpressure system (pollution prevention). These examples underline the high-quality processing and guarantee the longevity of the machines. Today, MKM manufactures around 90% of machines internally. Like NUM, this focus on consistency has a critical impact on the final product. At the same time, MKM closely monitors and tracks trends in cross-industry relevance in the areas of "Automation", "Handling" and "Industry 4.0".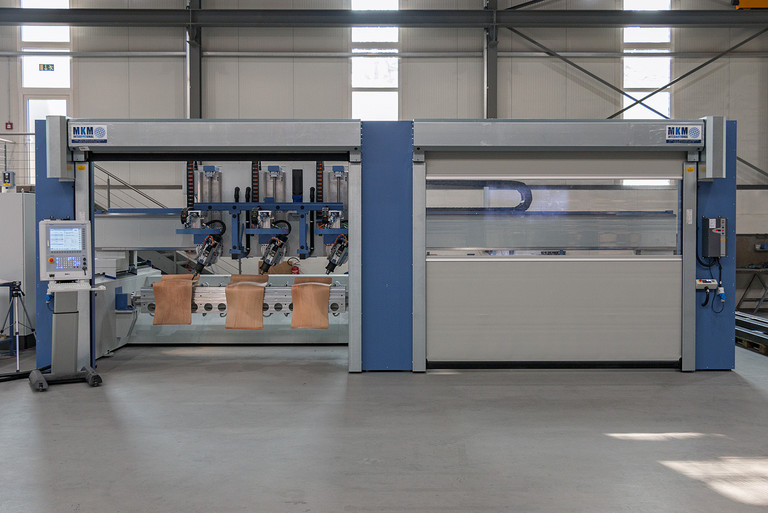 The uni_portal DT (for a turntable) milling machine presented here also satisfies. Up to now, the end customer was able to produce 1200 chair seats in one shift with his current machine. Thanks to the new uni_portal DT, the output can be increased by more than 30% to 1600 chair seats per shift – while simultaneously reducing the energy requirement by more than 20%! Nowadays, efficiency is of immense importance, thus it is not surprising that MKM equips all new CNC machines with an energy certificate - a type of "data sheet" that shows the energy efficiency and consumption data, such as the amount of air consumed. Consumption values can thereby be checked and compared at any time.
The 17 axes of the uni_Portal DT milling machine are powered by a Flexium+ 68 control, NUMDrive X mono and bi-axis drive amplifiers with full safety functions (SAMX) according to SIL3 and motors from NUM. Axis accelerations up to 4 m/s2 and travel speeds up to 25 m/min are possible during machining (depending on the workpiece to be machined). Three chair backrests can be manufactured synchronously per machine side. The machining of individual, fixed chair seats takes place via a machining head equipped with four interpolating axes incl. RTCP (Rotating Tool Center Point). The two machine halves each have a roller shutter in order to ensure the safety of the personnel during use.
"I am very pleased with the high flexibility of NUM as well as the long-standing partnership-based cooperation", Michael Köhler mentions in an interview, adding: "My employees are also very satisfied and appreciate the direct and uncomplicated communication with NUM."