Increased quality, quantity and speed + decreased time-to-market: goal achieved
Newlast, in collaboration with NUM, has developed a very efficient milling machine for the planning, prototyping, modification and production of precision shoe lasts, used in the manufacture of high quality footwear. Founded in 1996, Newlast aims to apply the knowledge acquired from years of experience in industrial machine tools to the manufacture of shoe lasts – a field that is notorious for time-consuming and obsolete working practices. By adopting NUM's advanced CNC systems, Newlast has enhanced the performance of its machines significantly, placing the company amongst the world leaders in this sector.
Newlast's aims are to provide customers with machines that improve manufacturing precision, decrease time-to-market and save on operating costs. Simplification and standardization of production processes, with on-line data exchange, are also important.
Like NUM, the underlying principles which have gained Newlast a worldwide reputation for its technology are quality, innovation and research. NUM's objective is to cooperate closely with machine builders to provide CNC solutions that give them a competitive advantage in the market; in this case, NUM has helped Newlast to improve the performance of its new last milling machine so that it offers faster production processing capabilities and increased accuracy. More lasts can now be manufactured in less time, with high precision and quality.
The SDRF1HS is a new generation machine designed to produce shoe last models. By means of this product Newlast has responded to the requirements of stylists and designers of footwear manufacturers and last making factories, who are increasingly inclined to use technological products to carry out their creative work of producing physical prototypes of lasts. Starting with a roughed block of plastic or wood, the SDRF1HS machine produces a complete model – for a right or left foot – in just one working cycle. The result is a fully formed precision-milled last, which is produced without need of any manual processing work to remove the toe and heel support. The machine's CNC software automatically calculates the optimum tool path to maximize efficiency and throughput.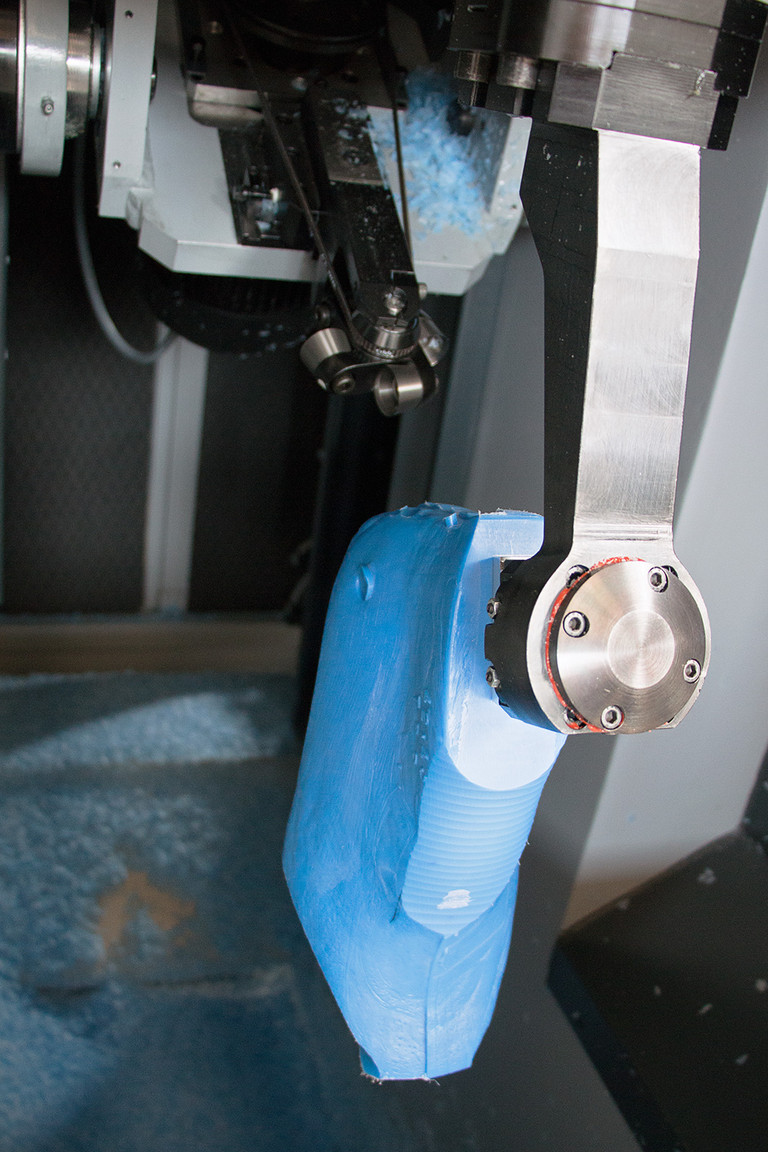 With the same technology Newlast produces machine for one pair, two pairs and three pairs of shoe lasts, all equipped with NUM's Flexium CNC. By adopting NUM's Flexium CNC platform, Newlast is ensuring that its machines are equipped with a high performance numerical control for the rapid milling of shoe lasts, using digital communication between the motorized axes and drives for precise, interference-free operation. The motors are fitted with absolute encoders, in order to avoid homming the machine at the machine power-up. The control solution – comprising drives, motors and CNC system – is the result of a collaborative development effort and is based entirely on technology provided by NUM. This means that Newlast's customers can receive help from NUM's worldwide service and support network very quickly, should they so need.
In addition to its extensive range of shoe last milling machines, the Newlast group produces equipment and software for numerous allied areas of footwear design and manufacturing. These include 3D laser scanners for orthopedic and shoe manufacturing applications, manual and fully automated structured light optical digitizers for scanning lasts, soles, heels and shoes. Software products include a package for managing the setup of shoe last injection molding, as well as a powerful CAD/CAM system for designing 3D models of shoe lasts. The group also collaborates on a technical basis with the Swiss company UTD, creator of the RightShoes SA platform – which helps consumers to choose the correct size of shoes without needing to physically try them on. We wish Newlast continued business success and assure them of our further collaboration with this revolutionary new project!