Mastering even the most complex workpieces – a revolutionary, 9-axis CNC controlled, weld overlay machine
TIG weld overlay technology is an advantageous way of meeting the increasing demand for metallurgical bond CRA manifolds and other workpieces. It is of a suitable quality for production systems and for crude oil exploration applications. 100% defect-free CRA deposition, reasonable cost, increased efficiency and high flexibility are the reasons why companies have chosen and are successfully using POLYSOUDE's unique cladding technology, controlled by the Flexium+ CNC System from NUM, in their production processes.
Just as NUM is known as being a reliable partner when it comes to specialized and customized CNC automation, POLYSOUDE is a reliable partner when it comes to automated welding and cladding.
POLYSOUDE is renowned for its expertise in orbital TIG welding, with an extensive product range which includes highly efficient equipment for mechanized, automated, robotic and automatic welding systems, as well as solutions for weld overlay applications. Through close cooperation, POLYSOUDE and NUM have developed the 9-axis CNC controlled weld overlay machine shown on these pages, which is one of the most precise systems available on the market today.
Installations designed for cladding in a vertical position are usually dedicated to performing cladding operations on cylindrical parts. In most cases the workpieces are positioned on a turntable or positioner. However, there are other, much more complex scenarios, where it is impossible to set the workpieces in motion, either due to their size and weight, or quite simply because of their geometry (e.g. eccentric bore holes or nozzles). A group of endlessly rotating collector welding and cladding heads, with torches which can be rotated without twisting the cable/hose bundles, has been specifically designed for such situations. These machines handle cladding operations on fixed workpieces with a high level of automation.
The automation of this machine is controlled by a Flexium+ 68 CNC from NUM. Eight of the nine axes are equipped with powerful single-cable motors and Safe PLC. Operation of the machine is achieved either via a NUM nPad with a personalized GUI (Graphical User Interface) for welding operations, or via a NUM FS152i machine panel with an additional 12" display, also utilizing a personalized GUI. Even more complex workpiece geometries - such as manifolds with intersections or cross sections - 'bore to bore' functions, supported by the NUM CNC system and the personalized POLYSOUDE GUI.
But what exactly is weld overlay – and what is it good for? Cladding is a welding procedure that deposits a wire filler metal on the surface of the workpiece, as opposed to joining two pieces of material. Generally this is used for corrosion resistance or wear resistance and frequently a different material is used for the clad than for the base metal. Orbital cladding can be done by orbital pipe weld heads using cold wire. In some cases, hot wire technology can be used. In hot wire welding, a power supply controls the heat of the filler wire almost to its melting point prior to its introduction into the weld puddle. Arc energy that would usually go into melting the wire provides more penetration and increases deposition beyond what is possible with standard cold wire TIG. In cladding applications the hot wire solution can result in weld deposition that approaches MIG speed, but with TIG quality.
The Hot Wire TIG welding process is a benchmark in the area of automation for high-quality coating or buttering operations. There is no question of replacing other processes where such a choice is appropriate, but this technique should be considered where the shape to be cladded is complex, where space constraints are severe or quite simply where a higher level of automation is desirable. At POLYSOUDE, a range of standard equipment and several specific solutions are available to cover the diversity of applications.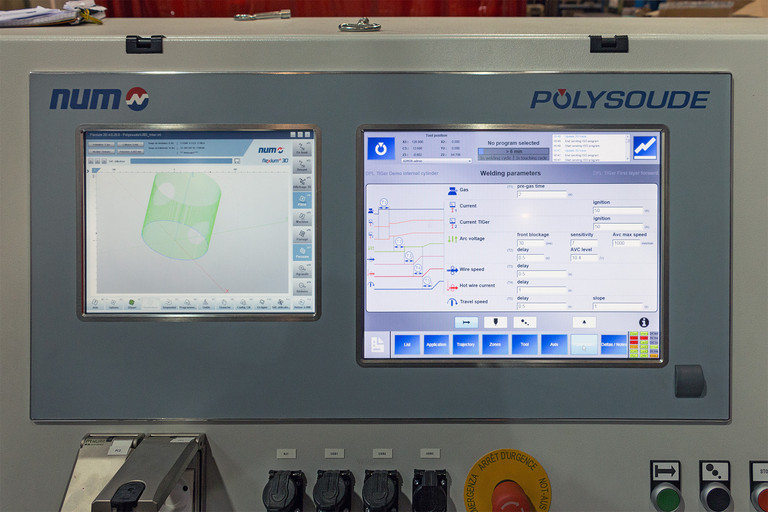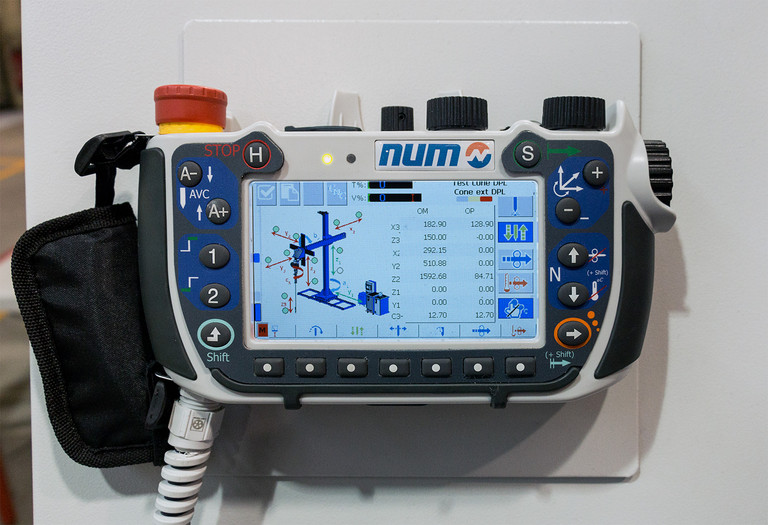 Like NUM, POLYSOUDE has been in business for over 50 years, during which time it has expanded its operations throughout the world. POLYSOUDE has about 250 employees, making it about the same size as NUM. With its own 13 subsidiaries, which provide a combination of sales and services, POLYSOUDE is close to its customers worldwide. And also just like NUM, POLYSOUDE has built up a relationship with its customers and partners based on trust. "Our strength lies in our collaborative approach, backed up by specialists like NUM, working in synergy and adopting a "Zero Risk / Zero Defects" approach in dealing with customers", says Mr. Hans-Peter Mariner, CEO of POLYSOUDE. The company is always at the cutting edge of R&D; its experts' combination of experience and innovation has led to it being acknowledged as a trailblazer in its field. "The 9-axis CNC controlled weld overlay machine is the result of close cooperation between POLYSOUDE and NUM", adds Mr. Elia Barsanti, Director of NUM France.