Smart 5 axis CNC woodworking center – perfect for a wide variety of processing steps
Pouwels sprl is a small, flexible machine builder based in Belgium, which specializes in the manufacture of routers for all processing steps, featuring manual operation, semi-automatic and CNC control. These machines are very helpful in the woodworking industry, for manufacturers of staircases, windows, doors, etc., thanks to their quality, precision, ease of use and time- and labor-saving capabilities. Pouwels' machines are used by many manufacturers throughout Europe and in the USA. The CNC controlled versions of the machines are especially popular. Pouwels is committed to the manufacture of robust machines for the woodworking industry, backed by excellent technical service and the proven ability of listening to its customers.
Founded in 1993, Pouwels is located in the east of Belgium, close to the city of Liège and the German border. It is a small, international company and like NUM, provides a 'full service' offering, with 12 employees. "The size of the company is perfect to be flexible for the customer and to adapt rapidly to changes on the market", says Mr. Didier Pouwels, owner and chief engineer of Pouwels sprl. Pouwels has developed and built CNC machines for the woodworking market for the past 20 or so years. Since the beginning, NUM has been the CNC partner of choice for Pouwels, and the cooperation of the two companies has grown steadily throughout this time.
Like NUM, Pouwels also focuses on providing total solutions to accompany the customer through the entire lifetime of a machine. This means, in the case of the 5 Axis CNC machine shown here, which they have developed and constructed entirely by themselves, Pouwels is also the main partner and contact for the customer, providing support and service, as well as CNC control and laser adjustment components. By remote maintenance via Internet, Pouwels is able to react quickly and efficiently to the customer's needs and solve the majorities of problems online.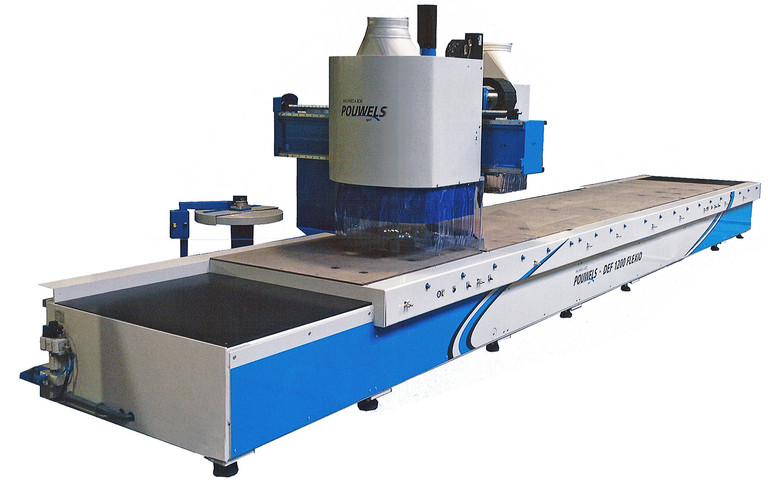 The 5 axis woodworking center shown on this page is controlled by a NUM Flexium+ CNC. In addition to the 5 axes, the CNC system also controls a second working head, which is equipped with a diverse assortment of tools for woodworking and a tool changer. This CNC machine is specially designed for machining solid wood. Thanks to its up to date technology and the user-friendly HMI designed by Pouwels, the machine provides the user with a very convenient, simple and highly productive means of performing a wide variety of woodworking processes. The machining width of this machine is 1,500 mm with a machining length of 6,000 mm, and it has an exceptional height capability of 650 mm on the Z axis, with a spindle power of 15 kW. This machine is ideally suited to perform both simple and complex machining requirements. Like NUM, Pouwels builds total solutions for it's customers, providing them with the best possible value.