Revoc provides specialist retrofitting of Kellenberger cylindrical grinding machines
Revoc AG in Romanshorn on Lake Constance (Switzerland) is a proven specialist for general overhauls, repairs, and service work on Kellenberger cylindrical grinding machines. Founded in 1996, the company is now well established in the market. The managing directors Roland Brüllmann and Thomas Zeller know Kellenberger cylindrical grinding machines down to the last detail. Both previously worked for several decades directly for the machine manufacturer, in the areas of customer service, sales and training.
Revoc AG replaces the complete electrical installation, including the entire CNC control system, when retrofitting a Kellenberger machine. In close cooperation with NUM AG, the work entails fitting a new electrical cabinet with matching paint, new CNC control, new AC servo axis drives and new positioning systems. The machine is functionally – geometrically as well as optically – as good as new after a complete retrofit. Each machine is geometrically accepted in accordance with the original Kellenberger inspection reports. For the complete overhaul of a Kellenberger CNC cylindrical grinding machine, a rough estimate is 12 weeks. Revoc is currently able to carry out 10-12 such retrofits per year. The capacity can of course be adjusted upwards as demand increases.
True to the motto: times change, but quality does not
Kellenberger machines enjoy a good reputation and it is not surprising that retrofitting has met with lively customer interest as an attractive and sustainable solution for maintaining these machines and extending their operating life. The retrofit presented here refers to a Kellenberger type UR 175X1000 CNC universal cylindrical grinding machine (featuring 175 mm center height at 1,000 mm maximum workpiece length). This modernization also marks the foundation stone for the first cooperation between Revoc and NUM.
Effective cooperation Revoc and NUM
Our sample machine was delivered to the customer in 1992 and since then has only undergone regular servicing. After 28 years the first overhaul is now due. The basic functions as well as the mechanics will be retained in this case. The retrofit starts with dismantling by Revoc's specialists. The machine stand and other machine parts are sandblasted and repainted according to customer requirements. Depending on their condition, between 300 and 500 individual parts must be overhauled or reworked. Even in the case of a retrofit, the currently valid regulations for machine tools, such as CE conformity, must be fulfilled. This includes a CE-compliant electrical cabinet, a safety solution and a monitored splash guard. CEO Roland Brüllmann comments: "Together with the renowned control company NUM, we have worked out a concept to replace the complete CNC control as well as the electrical installation. The machine was commissioned together with NUM and the process went absolutely perfectly." Thomas Zeller adds, "I appreciated the collegial basis of the cooperation, as well as always receiving quick and competent answers from NUM. The mutual communication went very well."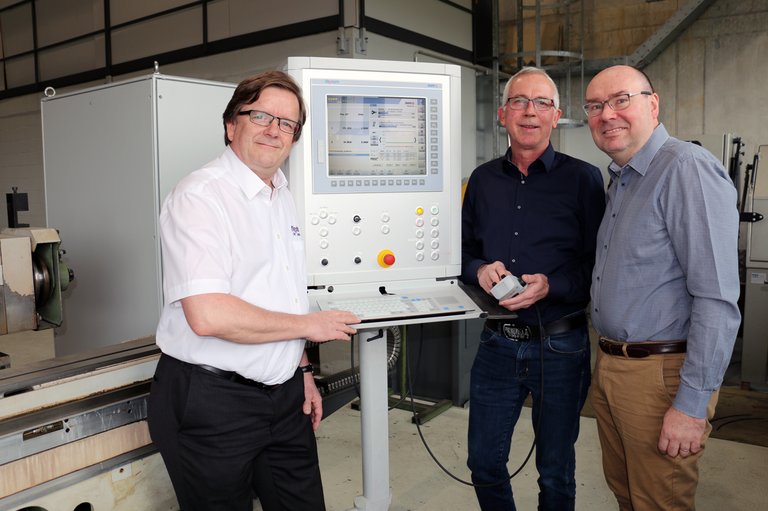 Fast infeed of the grinding wheel thanks to GAP sensor
The control system used is a NUM Flexium+ 8 with the NUMgrind software package for cylindrical grinding. The axes are moved by two NUM BPX126 motors and one BPG142 motor. A GAP (Grinding Analysis Process) sensor from Elaso AG is connected to the NUM controller, which bridges the 'air grinding'. The sensor's output is completely integrated into the HMI of the control unit and is graphically displayed on the screen, so that the user can also use this signal for other activities such as starting the dressing diamond or calibrating the wheel during set-up.
Grinding cycles
The NUMgrind software package offers specific grinding and dressing cycles for cylindrical grinding for internal and external machining. No DIN-ISO knowledge is required for programming the control. The operator is guided through the programming process by the graphical user interface. A wheel data management function with various wheel shapes for eight stored configurations facilitates the fast creation of grinding programs. Additional grinding functions such as an interactive intermediate dressing in the automatic process, an emergency retraction or the correction of a conicity error are available to the operator. Longitudinal measuring devices as well as in-process measuring systems for diameter monitoring are optionally available.
All-round carefree package
In addition to machine modernization, Revoc naturally also offers all other necessary services. For example, the entire delivery and transport process, machine commissioning, training of machine operators, and many more. Once the modernized machine is back in operation, it also needs servicing or, if necessary, extensions. Revoc offers these services both nationally and internationally, according to customer requirements. Revoc serves all companies across all industries in which Kellenberger cylindrical grinding machines are used. Revoc supports one-man operations as well as larger companies in the mold- and tool-making industry with the same range of services.
A total package that is worthwhile!