Gigantic dimensions – Precision in the µ range
Richter Maschinenfabrik AG has spent years consolidating its comprehensive expertise in the manufacture of maximum dimension machines and system components. In combination with the knowledge NUM has built up in the CNC field over the last fifty years, Richter is able to produce parts with a single-piece weight of up to 300 tonnes. In this context, it is not problems which are being addressed, but rather challenges which are being mastered. Where others face failure with single-piece weights of 100 tonnes, Richter is in its element.
The Richter company was founded in 1945. Each year, Richter processes over 8,000 t of steel plates and 2,000 t of finished, flame-cut plates. The combination of all-embracing competencies found under the Richter roof ensures the customer benefits from optimal production quality and efficiency logistics management. The company, characterised by its boldness and eagerness to blaze new trails right from the very start, continues to grow and develop.
Working in close consultation with its customers, Richter, as a work-order only producer, develops permanent solutions in its main business areas of welding construction, stress-free annealing, sand blasting, priming and varnishing, mechanical processing and assembly – consistently maximising its achievements.
Over the last few decades, these outstanding capabilities of the Richter Maschinenfabrik Richter AG, which create competitive advantages, have helped the company to evolve into a reliable partner to innumerable well-known manufacturers in the most diverse industrial sectors. The industries it primarily caters to are energy systems, press machinery, system machinery for forging, and solid forging technology, tunnelling equipment and mining.
Being an all-round system supplier producing everything under one roof means providing CNC controlled flame cutting (for plate thicknesses of up to 300 mm), welding, thermal treatment, sandblasting, varnishing, mech. processing, metal cutting, vertical turning, assembly, packaging and transport (with access to inland shipping lanes). Richter Maschinenfabrik is able to offer its customers all these work processes and services, which are by no means a routine event in these magnitudes.
Just like the close collaboration with the aforementioned customers, Richter also works together with NUM when it comes to utilising CNC systems for processing materials or workpieces, and also when it comes to trying out innovative ideas which have never been realised before.

In a recent example, a Flexium 68 CNC control unit made by NUM was installed to allow a flame-cutting machine with two aggregate heads to be controlled and operated. NUM was involved in everything from project planning to implementation, also overseeing the operational start-up. By limiting the points of contact on both sides to a few highly competent people, an effective solution could be swiftly developed which is now operating successfully every day. This cooperative venture was characterised by a very high level of flexibility and a solution-oriented approach by both parties, which created a high level of mutual trust while also allowing new projects to be tackled which are far from routine.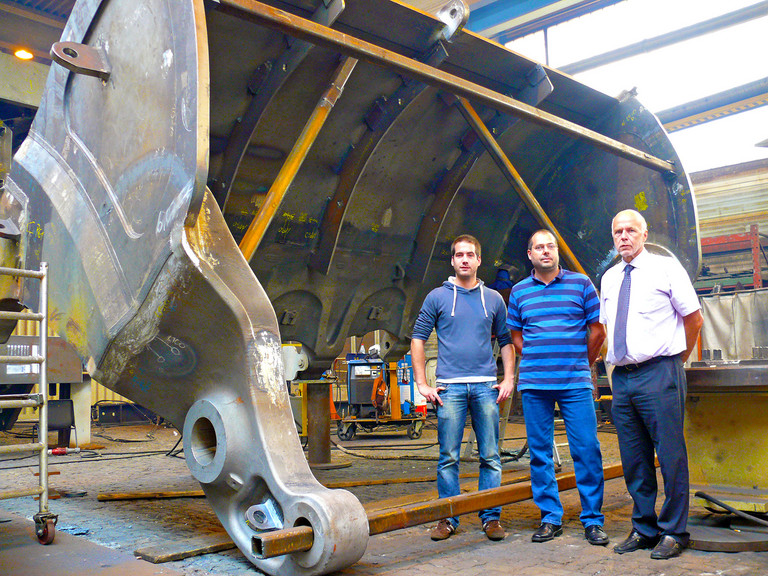 The flame cutter can process plates from 20 to 300 mm in thickness with a maximum size of 180 m². The machine is calibrated by laser and has a repeat accuracy well within the µ range. This high precision even allows Richter to process very large workpieces extremely accurately right from the start, saving time and therefore money during the subsequent work processes. The parts which are produced on this system are components utilised in the construction of excavators, presses, turbine assemblies (wind), etc. In this case, it is the girder components in particular which can be cut to order using the flame cutter.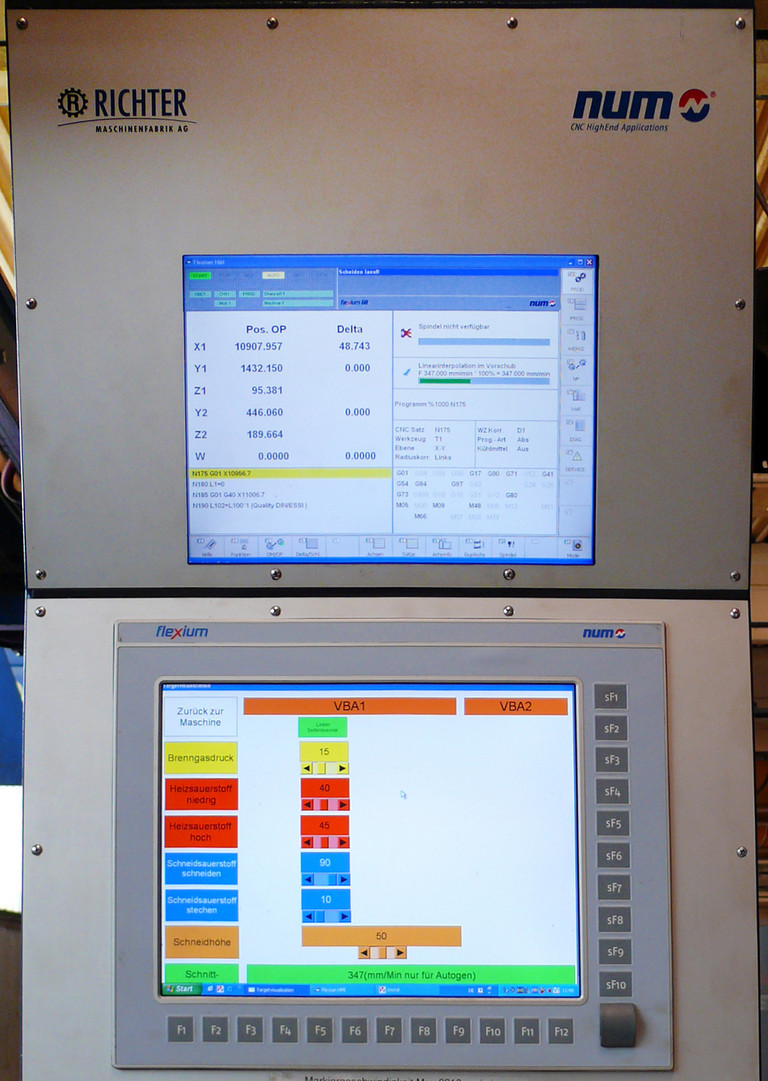 To ensure the construction girders end up being lighter, pre-defined segments are cut out from the inside of the girder elements and are then replaced with thinner plate sections, restoring the flexural rigidity of the girder at the same time as saving material and reducing the weight. Because the plate sections which have been incorporated are thinner than the girder sections, the machine must cut an edge on both sides which is as level as possible, with the angle of the flame head being calculated by the NUM control unit in an "angle cut compensation" application by using a virtual contour offset. The type of tool path movement this enables allows contour cuts to be made with outstanding quality, also making post-machining of the workpiece superfluous.
The fact that both Richter and NUM maintain a keen interest in new solutions, true to the motto "if we rest, we rust", consistently developing and implementing these in active collaboration with partners, allows us to look forward to continuing the good working relationship between the two companies.