NUM to expand its presence in the automotive and automotive supplier industries
Sicmat and NUM speak the same language. Sicmat was founded 80 years ago, as one of Italy's first machine tool manufacturers. NUM was one of Europe's first CNC steering and application development companies. With its new Grono 250 twin power architecture gear honing machine, Sicmat has set a new industry standard for post-hardening fine finishing. The machine's ultra precise CNC steering program was developed by NUM, following extensive analysis of its motion control requirements.
Sicmat specializes in the development and manufacture of precision gear finishing machines for the automotive and automotive supply industries. The company's products use the latest technology to help customers maximize throughput and minimize their production costs – without doubt, the best business strategy for a European machine manufacturer in today's intensely competitive markets.
Until four years ago, Sicmat specialized exclusively in machines that used shaving technology for gear finishing. This type of finishing process is used extensively by companies manufacturing medium to high quality gears for the automotive industry. However, in the past few years processes other than shaving have become increasingly competitive, so Sicmat has introduced a gear honing capability to its product portfolio – but typically, has approached it in an entirely different way to its competitors.
Capitalizing on its extensive knowledge of the shaving process, Sicmat has completely changed traditional gear honing. The innovative Grono 250 machine features a honing wheel with external teeth, bringing the advantage of shaving to post heat treatment finishing. Designed specifically for ease of use and simple integration with other factory automation, the machine has very low installation and operational costs.

Sicmat started out producing universal machine tools such as radial drilling machines, over the years progressing to highly specialized machine tools for gear finishing. The Grono 250 is based on an innovative platform conceived and realized by Sicmat, representing the culmination of more than 50 years' experience of manufacturing machine tools for the automotive industry. This history of innovation mirrors that of NUM, which has 50 years' experience in developing high-end CNC solutions. The platform's main mechanical characteristics are its cost-effective modular construction and exceptional stiffness – the bedplate is created from electro-welded steel filled with anti-vibration bonding. It is inherently resistant to vibration, thanks to the use of cast iron for the head, frame and tailstock. The physical layout of the platform provides excellent accessibility for operation and maintenance, and its vertical workpiece positioning facilitates integration with other automation on the production line.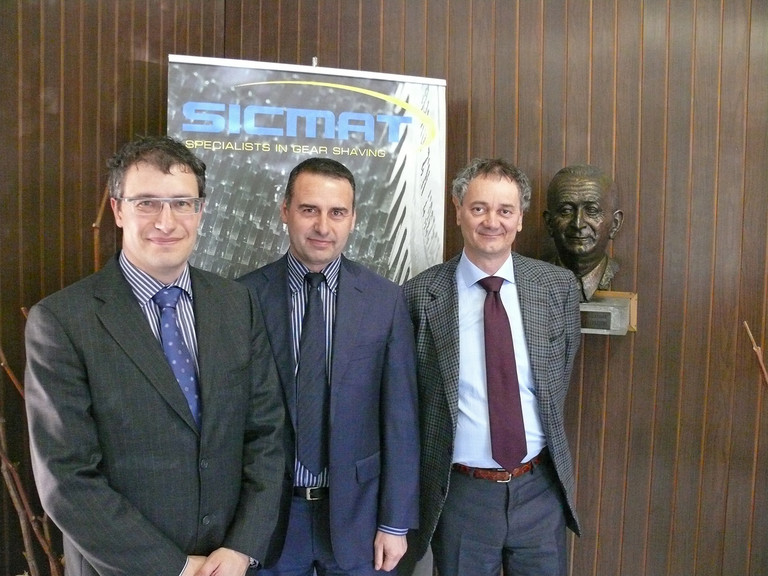 The Grono 250 has 11 motion axes, all controlled by a NUM Flexium CNC system. The main machining axes are operated by direct-drive motors, while the honing wheel and workpiece axes are driven by electro-spindles. The two electro-spindles are synchronized and controlled by a specially developed NUM application. They operate in a unique master-slave configuration, but without any delay of the slave spindle. The spindles can currently operate at speeds up to 7,000 rpm, and machines are already in development with 10,000 rpm spindles for even tighter control of the production process.
The Grono 250 is uniquely positioned: it combines the advantages of both power honing and grinding processes, with none of the disadvantages of either process. Sicmat and NUM have large booths at the IMTS 2012 exhibition in Chicago. Both companies will be highlighting their commitment to cooperative development with their customers, to ensure that their high end production needs are fully satisfied.