SINICO and NUM, two qualified partners move on
Two years ago we reported how SINICO and NUM embrace the same philosophy and have helped customers achieve unbeatable competitiveness for almost 50 years. Now SINICO has developed a completely new and gigantic transfer machine, to which NUM has contributed the first of its new-generation Flexium CNC systems, as well as motors and spindles. The combination of SINICO's machinery and NUM's CNC know-how makes the new TOP 2100 CNC an exceptionally powerful industry workhorse.
SINICO specialises in the design and manufacture of automatic rotary transfer double end machines with integrated cut to length and bar-feeder functions, suitable for producing medium/large metal parts (steel, stainless steel, copper, brass, aluminium, titanium, Inconel etc.) from tubes, bars, coils, forgings and blanks. With a single clamping, the SINICO machine can perform virtually all forms of operations including: cutting, facing, chamfering, boring, centring, turning, drilling, threading, tapping, milling and grooving, as well as shaping operations such as flaring, tapering, rolling, pressing, marking and knurling.
SINICO's headquarters and production facility are based in Montebello Vicentino in Italy's north-east. The modern and highly organised company employs a staff of 50 and its owner follows a strict policy based on research, innovation and investment, channelling efforts into the pursuit of new solutions and ideas for a dynamic, constantly expanding market. The company evolved steadily and specialised in the design and construction of automatic rotary transfer cut-off and end-finishing machines to become one of the leaders in this sector, currently exporting most of its production. In terms of the number of machines delivered, the biggest sectors are the automotive, bicycle and motorbike industries, manufacturing of hydraulic components, electric motors and power transmissions, industrial chains, earth moving machinery and contract machining.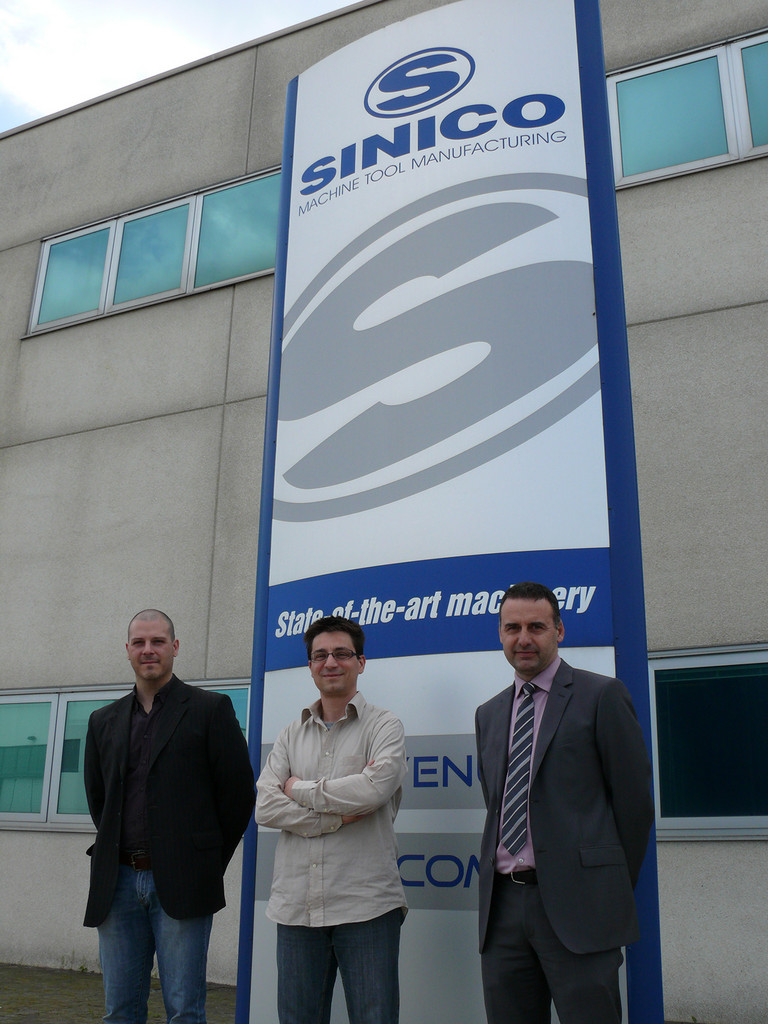 The new Model Top 2100 is an automatic cutting and bar end working machine with electro-mechanically controlled axes. A quick look at its impressive new architecture brings up some of the following facts. Up to 6 opposed work units with roller guides fitted on two arc-welded end walls, rotary transfer with 3 or 6 divisions and Hirth gear indexing, cutting with supplementary clamping jaw, NC-axis bar-feeder group, etc. - the list is almost endless. The entire machine is managed by two Flexium 68 CNC systems. The machine's production capacities are equally impressive; it can handle bars with diameters from 20mm to 110mm and machinable lengths from 40mm up to 800mm. The loading time is less than 10 seconds.
The two Flexium 68 CNCs on the TOP 21000 (Flexium is already used as the standard CNC system on SINICO's other machine families) provide the ultimate flexibility for a machine of this size; they offer almost unlimited customisation potential for performing a whole array of operations.
The combination of a strong and reliable machine with a flexible, high-performance control unit is the key for successful production and fast changeover from one production phase to the next. With the collaboration of SINICO and NUM, another highly competitive and future orientated machine has been realised, targeting the production and assembly lines of the world's market.