SMP celebrates its 60th anniversary and twenty years of collaboration with NUM
This year sees the SMP company, which is based in Bron near Lyon (France), celebrating the 60th anniversary of its foundation. This dynamic company owes its success its continued research into ever more innovative solutions.
SMP is renowned worldwide for the quality of its precision revolving tables designed for mounting on a wide range of machines and is also very active in the high-end mechanical engineering sector where it is known for:
Production of high-precision workpieces subcontracted by major contractors.
Engineering ranging from design to production of subassemblies for the armaments and nuclear industries.
Twenty years ago, SMP used its know how to develop a numerically-controlled tool cutter grinder. Collaboration with NUM began with the NUM 760 and continues today with the NUM AxiumPower range. SMP has at its disposal a wide range of machines, all controlled using AxiumPower: the CA3+, CA6 and the CA8. NUM provides SMP with both a team of specialists in their field and products able to support original specialist solutions that can be adapted to the demands of its customers. Their capabilities for adjustment and development have allowed SMP to expand the scope of its solutions and to establish a reputation as a major player in field of tool cutter grinders.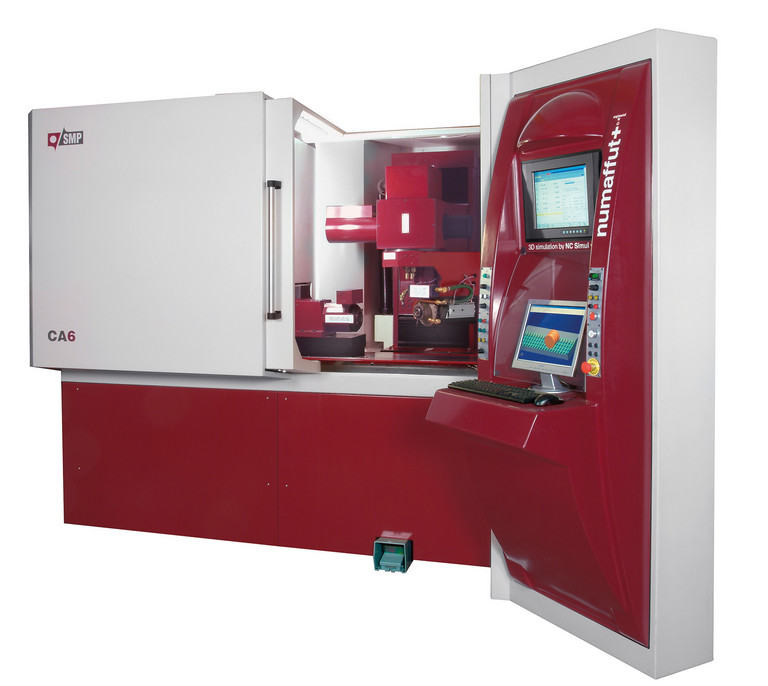 SMP has exploited NUM CNC Axium Power control particularly well in its products and without a doubt one of its most attractive features is its wide range of functions including:
PC communication,
Torque motor and linear motor control ,
A systems which can be extended regarding number of controllable axes,
Integrated high-speed functionality,
Input/output extension using a numeric bus
Plus many more
Integration of heterogeneous systems is also possible using NUM numerical control. For example, a manufacturing cell comprising an SMP machine of type CA3+ and a Scara robot. A master program controlled by an AxiumPower CNC transmits commands to the robot and the machine respectively. NUM's strategy combines the quality of its products with the added value of machine integration – a strategy which complements the SMP approach perfectly. Determined not to rest on it success, SMP is currently working on its development abroad. NUM will continue to accompany SMP in this new venture.