NUM Partners with Taiwanese Specialist for Hydrostatic Grinding Machines GRINTIMATE
For the first time, NUM solutions were successfully integrated into a wafer grinding machine from the Taiwanese specialty machine manufacturer GRINTIMATE.
GRINTIMATE is a specialist in the Asian market for hydrostatic grinding machines. Like NUM the company founded in 2015 is based in Taichung. The company has gained a name primarily for its hydrostatic cylindrical grinding machines, rotary surface grinding machines and wafer grinders.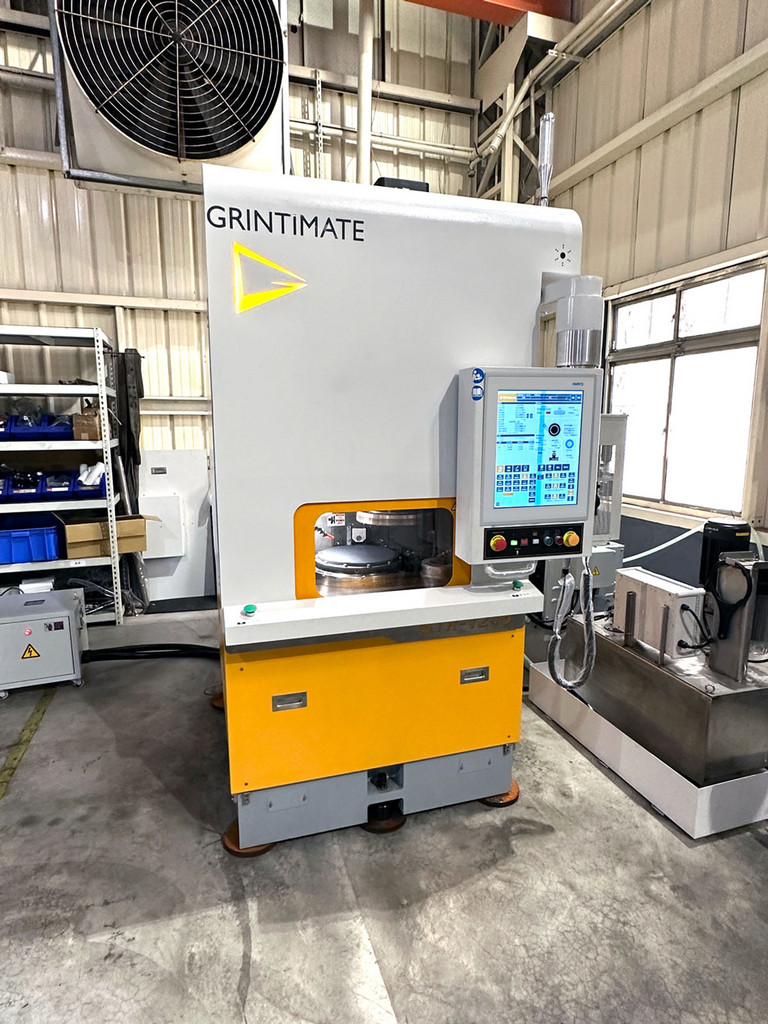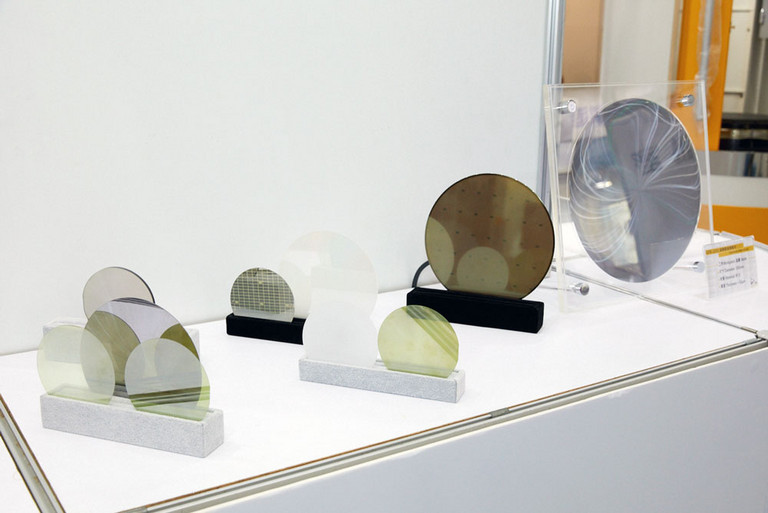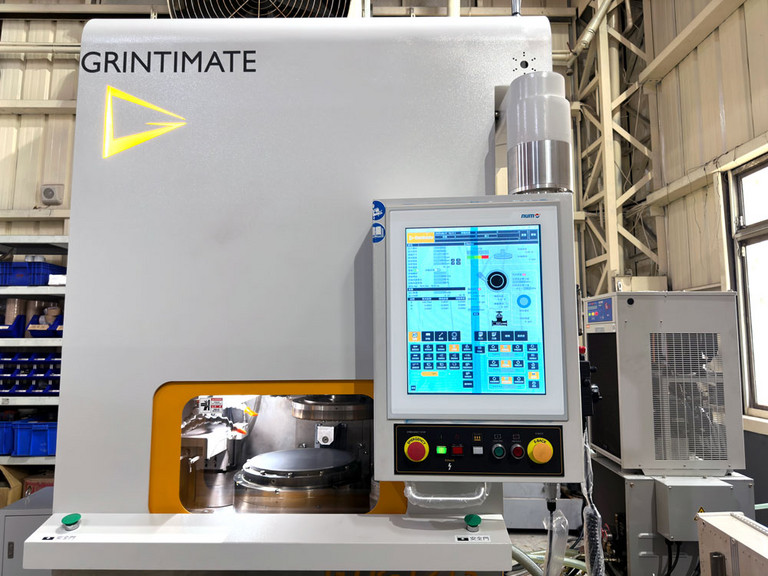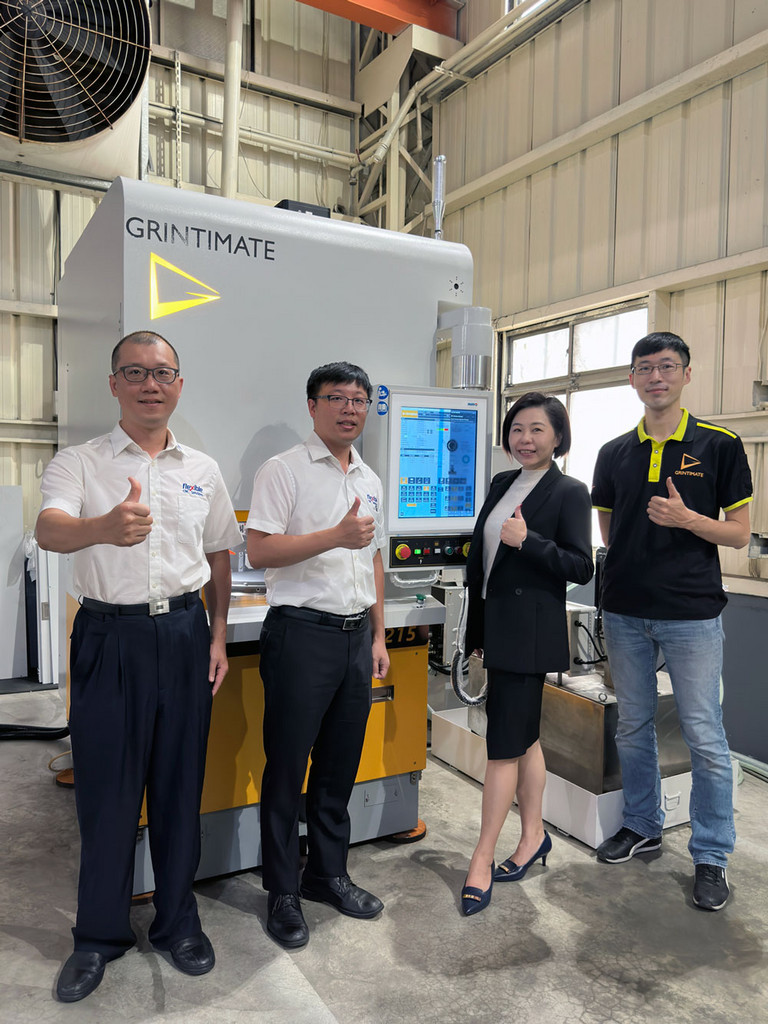 How it came to cooperation
Adrian Kiener, NUM CSO for Asia, got to know GRINTIMATE back in 2018 at the CIMT (China International Tool Show). Since then, loose contact has been maintained. They met about every six months and exchanged information about the latest developments. And it was this that led to the actual collaboration, as NUM had significant advantages to offer in terms of automation and grinding technology. Especially for their wafer grinding machine.
Why NUM?
NUM's NTC Manager in Taiwan, Johnny Wu, knows that GRINTIMATE had already tried other integration solutions:
"NUM is not the first controller GRINTIMATE used for a wafer grinding machine." Tricia Tsai VGM of GRINTIMATE adds: "We also use other Taiwan PC based brand controls. GRINTIMATE GTR-wafer grinder already meet the request of wafer thinning process (see box) for SiC, Si, GaN etc. However, another challenge in semiconductor fab acceptance is the integration of SECS/GEM and loader/unloader system for the GTR, which the NUM system will help to fulfill."
Automation of wafer grinding machine
Ultimately, the challenge was to automate a GTR-1215 grinder. Johnny Wu explains what the real challenges were:
"First, there might be two or more robots that transfer wafers in and out (it's so called EFEM/Equipment Front End Module) to the GTR-1215. A special protocol for the communication of the selection of front-end robots, the logistics method between EFEM and the host machine, the communication between SECS/GEM and the host system, and the integration of BC (Block Control) was needed.
Therefore, the controller should be able to receive the signal from the robot and start the rest of the process. After the GTR-1215 finishes grinding, our controller also needs to send a signal to the robot to ask it to transfer the wafer. Developed by the SEMI (Semiconductor Equipment and Materials International) organization, SECS/GEM is the standard defining a semiconductor's equipment interface protocol for equipment-to-host data communications. Integrating the SECS/GEM protocol was easy because our controller is open and flexible.
Second, the precision of the grind process requires extensive spindle current monitoring. The NUM controller can directly collect current information from MDLUX drives and then the HMI software collect all this information in one database. We also offer special functions for AC grinding, which include not only monitoring but also adaptive control of the feed to stabilize the current. This achieves better surface quality and shortens grinding time."
Experience from this cooperation
The project highlights NUM's ability to support GRINTIMATE in the integration of a complete production line for wafer grinding. Current monitoring and pressure monitoring were integrated and NUM created a special HMI for GRINTIMATE to ensure optimum machine operation. NUM also provided PLC NC machining macros, motor tuning and commissioning for this project, so a total solution for GRINTIMATE. This means that GRINTIMATE could concentrate fully on its main competencies in machine and grinding technology.
According to Johnny Wu, NUM's NTC Manager in Taiwan, NUM is a renowned name in the grinding industry. NUM's open and flexible system makes it easy to access information and provides interpolation at Nanometer level. Furthermore, the NTC Taiwan offered GRINTIMATE a complete solution, which also included adaptive feed control. All these features prove our statement: "NUM CNC solutions provide machine builders with a competitive advantage."
Wafers are the basis for integrated circuits (chips). During production, only wafers with a certain thickness can be used. Usually, before the integrated circuit is "packaged", material is then removed from the back of the wafer. This process is called the wafer backside thinning process.