CNC High-Precision Grinding Centre
When it comes to machines for producing spiral drills with diameters as small as 0.02 mm or lengths up to 450 mm, TTB (SAACKE Group) is one of the industry's prime innovators. The company manufactures high-precision tool grinding machines equipped with the latest NUM CNC control systems, and supplies customer-specific technology for tool grinding applications in carbides, HSS and other special materials. The extraordinarily productive collaboration between TTB and NUM is now entering its tenth year, with consistent growth assisted by a lively exchange of knowledge in developing new products.
TTB unveiled its latest innovation in grinding technology – the TG10 high-precision grinding center – at GrindTec 2012. This latest generation production machine uses a unique vertical axis configuration to minimize physical space requirements and accelerate throughput. The machine's linear axes employ a satellite drive system to maximize reliability; this technology is also used by the aeronautical and aerospace engineering sectors for exactly the same reason. Together with the symmetrical arrangement of the axis kinematics, this results in a feed movement that is up to three times faster than conventional machines, as well as contributing to the TG10's extremely compact design.
The machine is controlled by a NUM Flexium CNC system and NUMROTOplus tool grinding software, which provides a direct and very efficient path between tool design and manufacture.
Built to the same high quality standards as TTB's renowned TGC and Evolution tool grinding machines, the new TG10 marks the company's first venture in cost-reduction engineering. TTB developed the TG10 in direct response to increasingly sophisticated market demands for machines offering improved productivity, flexibility and efficiency at the lowest possible price, but without compromising on quality. The design objective of creating a precise, high quality machine with a low acquisition cost has been fully realized, giving TTB a significant advantage over other machine manufacturers in this market segment. NUM is delighted to have helped and supported development of the new machine, while at the same time honoring its mission statement, "NUM CNC solutions help machine manufacturers gain a competitive advantage".
The new kinematics of the TG10 introduce precisely controlled movement to the tool grinding process. The machine's innovative vertical axis architecture was developed by TTB and capitalizes on the performance of NUM's latest generation axis drives to boost productivity by means of fast feed rates and short traverse paths. High levels of stability and rigidity are ensured by the design's exceptionally compact nature; the machine only requires a small amount of space at the user's production facility, which simplifies installation and helps reduce costs.
Using the new grinding wheel changer for the TG10, the production cycle is accelerated even further. Spindle changing times are reduced considerably by the swivel unit, and the standard grinding wheel changer can be upgraded to a unit with a maximum of four holding fixtures. Up to 800 work pieces with a diameter of 16 mm and a maximum length of 150 mm can be accommodated by the automatic loader, facilitating uninterrupted volume manufacturing; different versions of loader are available to match users' needs.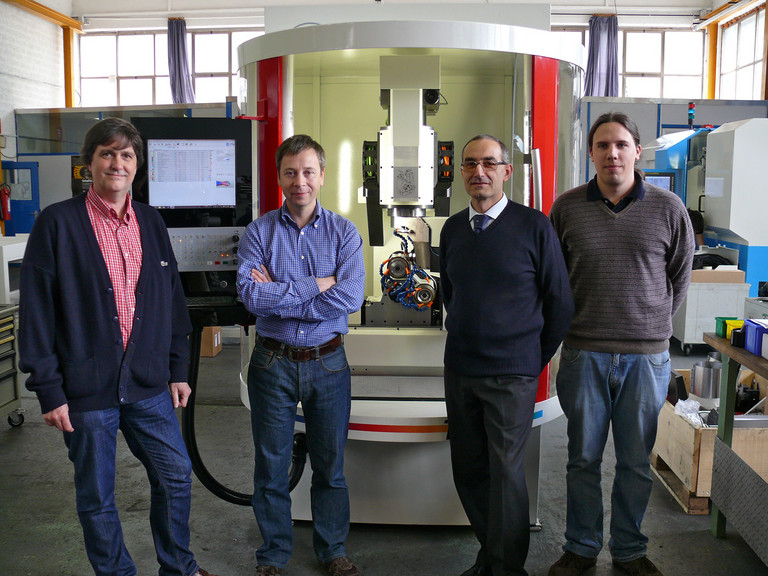 The combination of NUMROTOplus application software, advanced CNC control and innovative kinematics introduces considerable flexibility to the machining process. Capable of outperforming conventional tool grinding machines by a significant margin, the TG10 provides machine tool manufacturers with a reliable, low cost means of accelerating production. Equally suited to volume or small batch manufacturing, the machine enables even newly-developed custom tools to be machined effortlessly and cost-effectively.