Collaboration speeds development of new-generation glass finishing machines
Customized CNC systems and in-depth engineering support from NUM are enabling specialist machine manufacturer Viewtrun Technology to enter and compete in fast-growing markets in Asia.

Based in Taiwan, Viewtrun is developing a range of glass finishing machines for consumer electronics products that set new cost/performance levels in this highly competitive automation sector. This market is currently dominated by Japanese manufacturers, producing mainly high-end machines.
Viewtrun's first machine, the JG-500 glass grinder, has just been launched and is proving extremely popular. The machine is designed for manufacturers of flat panel glass-fronted displays for products such as smartphones, tablets and other touch-screen devices. After a glass panel is cut to size, its edges need to be precision ground to remove the chips that are an inevitable result of the cutting process. The work necessarily involves close working tolerances, to ensure that the panel retains the correct form factor once its edges have been smoothed.

Viewtrun has chosen to base all its machines on CNC systems from NUM for a number of strategic reasons. First and foremost, the company wanted to partner with a CNC company prepared to collaborate on the development of custom hardware and software to shorten its time to market and add value. Secondly, the CNC system itself needed to have an open architecture, to provide a flexible platform for future machine development.
According to Adrian Kiener, Managing Director of NUM Taiwan, "The market for glass finishing machines is relatively young, so Viewtrun didn't want to get locked into proprietary control technology that might preclude taking a particular design route sometime in the future."
The JG-500 precision glass grinder is a 4-axis machine with a double spindle. There are two linear axes – X and Z – and a spindle motor mounted on the vertical Y axis. All four motion axes employ NUM servomotors driven by MDLU digital servo drives, which together with the spindle motor are controlled by a NUM high-end CNC system. High speed interpolation techniques ensure tight, cost-effective positional control of motion.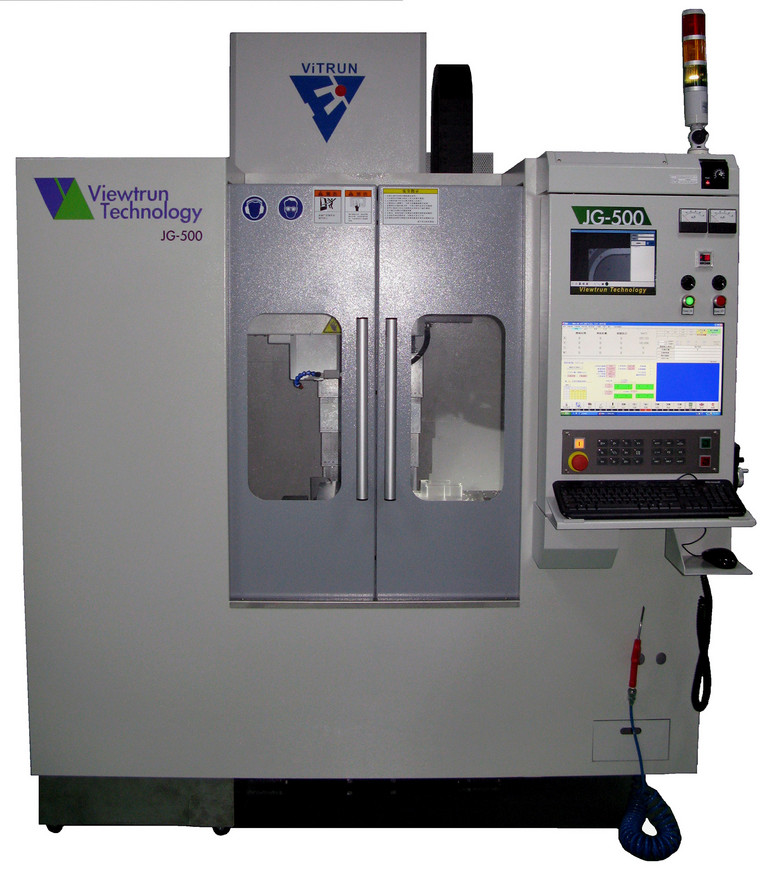 A custom HMI, which utilizes special functions and parameters, and employs the Chinese language for all operator communication, was specially developed for the JG-500 by NUM Taiwan. The HMI links to a parts database that was also created by NUM specifically for the machine. NUM's ability to provide this level of local development support was another factor behind Viewtrun's choice of CNC solutions provider; it judged that it would obtain more responsive service from a company that operated in the same country.
Depending on the dimensions of the glass panels being processed, the JG-500 is capable of grinding up to three times faster and more accurately than similar machines from competitors. The panels then undergo a separate finishing stage, where their edges are polished to alleviate stresses that build up in the glass during the cutting process.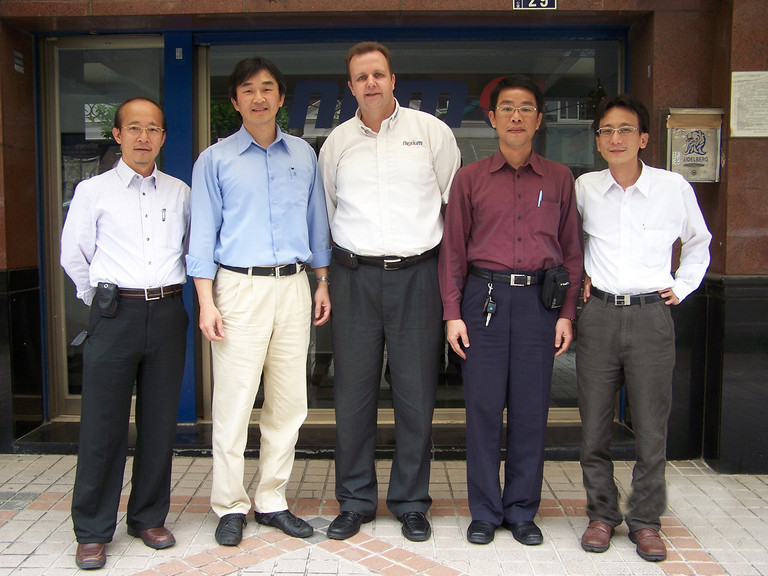 Viewtrun has also developed a machine – the JP-6MA – that combines glass panel grinding with edge polishing to an accuracy of a few microns, to further simplify the production process and help reduce scrap. This machine has six motion axes and two spindles, again controlled by a NUM high-end CNC system. Launched in Q4, 2011, the JP-6MA is currently sold to specific customers in Taiwan.
Thanks to its very high accuracy polishing capability, Viewtrun's JP-6MA machine produces glass panels that have an unprecedented bend strength, significantly reducing the risk of them breaking during use. The unique design of the polishing tool and associated process provide Viewtrun with a powerful competitive advantage in this sector of materials finishing automation.
Adrian Kiener of NUM Taiwan adds, "A partnership ethos has always been at the heart of NUM's business philosophy. This is proving particularly advantageous in Asia where NUM's willingness to share the risk that young OEMs face when developing new machine tools is winning us significant new customers such as Viewtrun."