Own grinding software know-how combined with the NUMROTO infrastructure
In Zell am Harmersbach (Germany), in the beautiful Black Forest, you will find Prototyp-Werke GmbH, a production site of Walter AG. Since 2007, Prototyp-Werke has been integrated into Walter as the competence brand "Walter Prototyp" in the field of threading and milling tools. Walter celebrated its 100th anniversary in 2019. The company was originally founded by Richard Walter in Düsseldorf, where sintered carbide alloys and new metallurgical processes were researched. Nowadays, the threading and milling tools are manufactured in a plant with a production area of some 8,000 m2 that employs approximately 450 people, working shifts.
Other significant brands of the Walter Group are "Walter Titex" (drilling tools), "Walter Multiply" (digital solutions, tool management, training and production process planning) and "Walter" (carbide inserts, tool systems for milling, insert drilling, turning and grooving). References to these can be found as vertical elements in the Walter logo, "Yellow" stands for the Walter Prototyp competence brand. Walter employs about 3,500 people worldwide. The company is headquartered in Tübingen, south of Stuttgart. Customers in over 80 countries are served and supported by numerous subsidiaries and sales partners. The focus is on the automotive industries, rail industries, aerospace, the energy sector and general mechanical engineering.
The production department in Zell am Harmersbach and NUM have collaborated successfully for almost three decades. Proof of this is, among other things, the customer report from 1993 on NUMROTO with the significant title "Farewell to black art", attached below.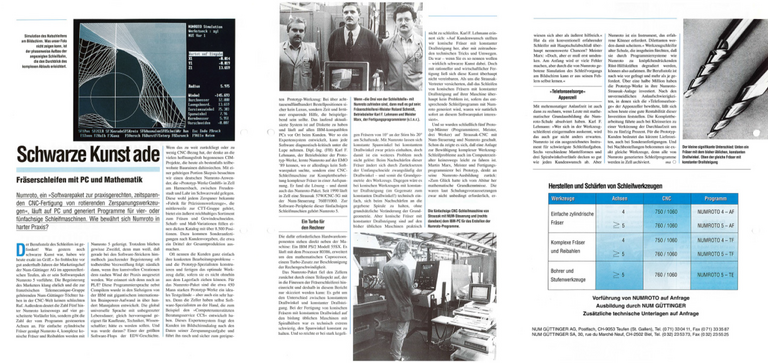 Mr. Martin Marx, software developer TEWL, has been in the service of Prototyp-Werke since 1982. He was present at the 1993 report, as was Mr. Jörg Federer from NUM. The two men have therefore enjoyed a long and fruitful business relationship.
The Walter production site in the Black Forest has acquired comprehensive know-how in tool grinding over the last decades. For many years, a proprietary software development has been used on tool grinding machines equipped with NUM controls, in parallel with NUMROTO, enabling many complex tool shapes to be realized for customers. With a hundred years of company history, it is therefore not surprising that the internal transfer of knowledge is of central importance and must be ensured. This is where NUMROTO comes into its own. Thanks to the "External Calculation" function, the company's own algorithms and path calculations, and thus their know-how, can be integrated and merged with the comprehensive NUMROTO software solution.
Prototyp uses a large part of the NUMROTO infrastructure, including the high-precision and comprehensive 3D simulation, post-processor (machine-specific calculation of the 5-axis path), database, wheel management, multi-language support and also the X-machining. Prototyp's path calculations are integrated into NUMROTO as "external calculations." Since the company only uses its own path calculations internally, they are not accessible to other customers - and thus the know-how of the tool manufacturer is protected! This flexible concept allows the knowledge built up by the internal development team to be passed on and also further developed across generations, while the remaining infrastructure of the programming system is maintained and transferred into the future by NUMROTO. "The external computation feature allows us to produce tools that NUMROTO does not offer as standard", reports Martin Marx, and adds: "the proven NUMROTO platform is very good; it is very valuable for us from the development side when in-house developments are quickly and easily geometrically tested with the 3D simulation and then automatically ground on the machine with collision checks."
An example of this fusion of knowledge is the "Flash" high-feed milling cutter. The specific face sharpening and the double radius flutes are designed as external calculations, while the rest is according to the NUMROTO standard.


Technologically top-class is the new MD133 Supreme solid carbide milling cutter. As it follows a machining path on the milling machine with circular movements at high speed, a tooth geometry tailored to this is required. This can be achieved thanks to the optimum interaction of the programming systems.
Fabian Lehmann, Team Leader Technology Development at Walter in Zell, Germany, says: "NUMROTO offers a cross-platform advantage through 'external calculation', which as far as we are aware is not available from any other provider." Martin Marx sees further advantages of NUMROTO in the quality of the implemented work: "Even if the development time sometimes takes a little longer than hoped for, there have never been problems with updates - they are always tested. In addition, existing functions are always upward compatible, even after many years."
Other services include the coating, marking, cleaning and surface treatment of tools. Walter's production site in Zell is certified according to DIN EN ISO 9001, 14001, 45001 and 50001. With its in-house Walter Academy, Walter AG also focuses on continuous professional qualification and further development of the personal skills of its employees.