Future-oriented Austrian mechanical engineering company successful all over the world
Weingärtner Maschinenbau GmbH, which was founded in 1965, is an international company that manufactures machine tools for the energy sector. For more than 35 years, it has been producing processing machines for the oil drilling industry and the plastics sector, as well as combined turning/milling centers for the complete processing of heavy, complex components. Weingärtner and NUM have been working in close partnership, from initial machine configuration through implementation to commissioning, for over 20 years.
Weingärtner mainly utilizes NUM controllers in machines for the production of machine components, such as pumps or core parts for drill drives used in the crude oil and gas industry. These components are typically used for drilling and subsequent production of oil and gas, but they also have applications in other industries wherever eccentric screw pumps are used for pumping various liquids and viscous materials.
The core parts for drill drives are also produced on Weingärtner machines with NUM controllers. These machines offer peripheral milling and skimming of stator cores and single- and multi-lobe rotors used in industrial and petrochemical pumps and in mud motors. For processing, it is very important that the tool speed is exactly synchronized with the workpiece speed, and that the speed ratio can also be influenced by the interpolator. This used to be done mechanically. These days, this function is carried out electronically using a NUM CNC system to guarantee extremely high levels of precision.
Weingärtner's current machines, like the Vario shown in the picture below, use a NUM Flexium CNC system with specialist synchronization software. Depending on the machine type, this controls up to eight axes and two spindles with power ratings of between 22 and 90 kilowatts.
"For Weingärtner Maschinenbau, the huge flexibility of NUM CNC systems and NUM as a company is a real boon", explains Klaus Geissler, Sales Manager for machine tools at Weingärtner. Special solutions are worked out and implemented as part of a close partnership. This is not merely a customer-to-supplier relationship, but real cooperation between two system partners, which has an impact on the success of both Weingärtner and NUM. Weingärtner's main customers are in the supplier industry for oil and gas exploration. This means that Weingärtner is active all over the world – its main sales markets are America, the EU, Russia and Asia.
Just like NUM, Weingärtner also offers complete solutions for its customers. These consist of a machine, tools, process engineering and CAD/CAM software, and are used not only in the production of eccentric screws for pumps, but also in the production of large crankshafts, turbine and generator shafts for power stations and in roller processing for the paper and steel industries.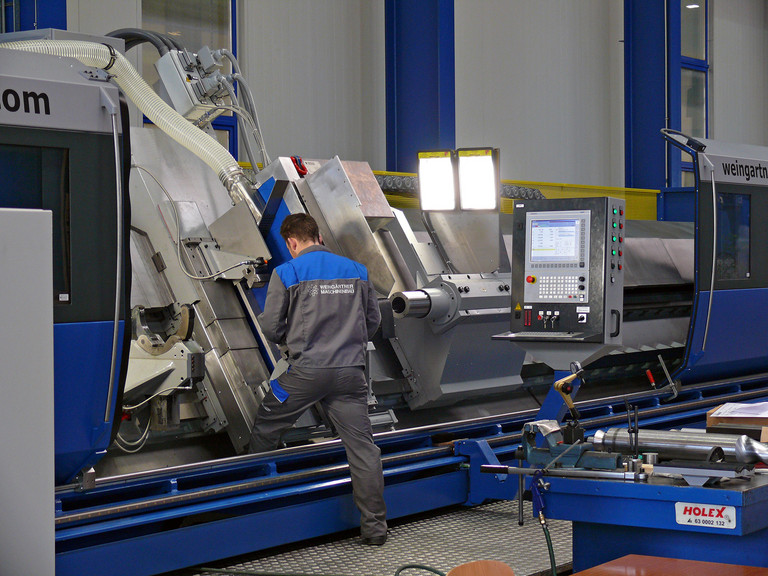 The range of Weingärtner machines thus incorporates numerous high-performance machine tools for the metal processing industry. These high-quality systems are all characterized by a consistent strategy based on a robust machine with optimized process and machining technology and fully integrated software.
As comparatively small companies in the global market Weingärtner and NUM have set themselves apart from their bigger competitors by means of continuous development, innovative solutions worked out as part of a close partnership, a strong team of highly qualified employees and an excellent global service network. These qualities are also the basis for the success of the two companies.