Conquering new markets with modern 5-axis rod machining center
elumatec AG is the world market leader in the manufacture of machines for machining aluminum, plastic and steel profiles. With an extensive product range, the company covers the entire user spectrum from small craftsmen to industrial profile processors. Tailor-made and modular machine concepts enable flexible and individual industry solutions for all customer groups at all times. The company, headquartered in Mühlacker, Swabia (between Karlsruhe and Stuttgart, Germany), was founded in 1928, has subsidiaries and dealers in more than 50 countries and, with more than 700 employees worldwide, generated consolidated sales of over 130 million euros in 2018.
elumatec has made a name for itself with a wide variety of machines for SME trading companies, such as smaller rod machining centers, double miter saws, corner jointing presses, milling machines and 4-axis machining centers. The cornerstone of the company's success was laid in the 1960s, when the company began to devote itself consistently to profile machining of a wide variety of materials.
In 2006 elumatec launched the SBZ 151 rod machining center for the flexible and efficient machining of aluminum and thin-walled steel profiles. With it, the company also ventured into the field of machines for industrial companies for the first time - and promptly landed a huge success! Today the machining centers are used in the construction of windows, facades, trains, mountain railways, car bodies, ship masts, truck superstructures, motorcycles, lights, football goalposts, office furniture, etc. They are also used in the manufacture of materials for such iconic buildings as the Louvre in Abu Dhabi and the highest building in South Korea, the Lotte World Tower (with a height of 555 meters this is currently ranked fifth in the world ranking of the highest buildings). Both of these buildings incorporate material produced on SBZ 151 machines utilizing Flexium+ control from NUM.
The collaboration between elumatec and NUM started in 2002 when a prototype machine was developed. Components from different manufacturers were compared and analyzed over a period of approximately one year. In the end "no other controller achieved a better performance than the Axium controller from NUM", says Oliver Guigas, software developer at elumatec AG. The requirement for such a machine type came from customers in the market – who desired an internationally known control system.
In the meantime, the rod machining center has been further developed and upgraded both mechanically and in terms of control technology. The Flexium+ 68 replaced an Axium system in 2015 and is now the exclusive controller for this type of machine. According to Stefan Schweikert, head of electrical design at elumatec AG, "Flexium+ and the integrated safety system offer us something like a 'unique selling point' – we can effectively use many of the features offered by the control system."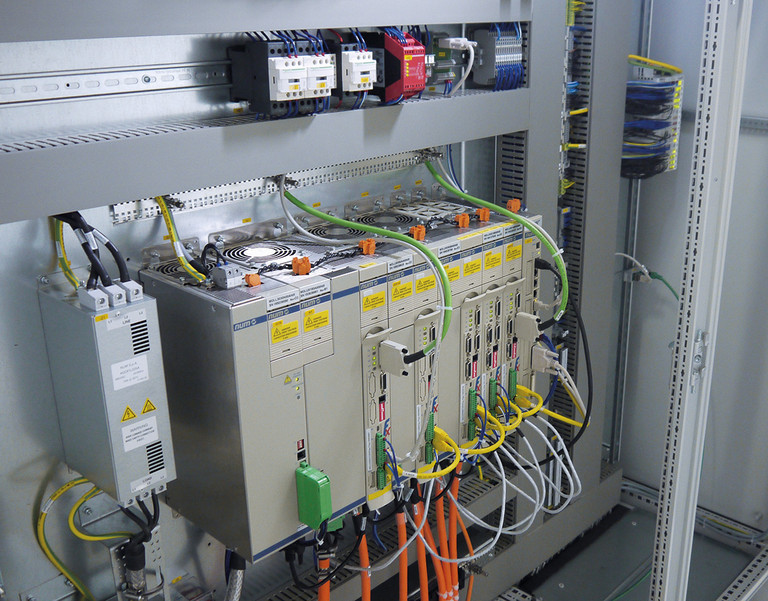 Safe CAM (safe cams), for example, is a safety function within the control system. This eliminates the need for external sensors and allows safe working areas to be defined. In the SBZ151, in combination with SLS (safe, reduced speed), a clear increase in efficiency can be achieved by simultaneous machining and loading. Thanks to the openness of the NUM control system, customer-specific requirements can also be implemented very quickly. By relocating functions previously implemented with hardware to the software, a very high degree of flexibility can be achieved by means of modular programming.
"Thanks to the 'Single Cable' motors, the wiring costs are much lower than in the past. This was a 'quantum leap' and ultimately saves time and money", adds Werner Münsinger, electrical designer at elumatec AG. The 'Single Cable' motors also made it possible to reduce the susceptibility to faults compared to earlier versions. "Regular technical meetings also ensure the synchronization of elumatec and NUM. The topics are always very well prepared, which results in a very high quality and competent solution finding for elumatec", adds Mr. Felix Schlachter, head of software development at elumatec AG.
SBZ 151 Edition 90
The 5-axis SBZ 151 rod machining center was reworked to mark the 90th anniversary of elumatec and is now available as 'Edition 90'. This machine is characterized by revised clamps, new computer generation, optimized control and regulator technology as well as certified, drive-integrated safety functions and is controlled by a Flexium+ 68 CNC system from NUM.
The SBZ 151 Edition 90 can be ordered as standard with the following machining lengths:
6.0m
7.3m
9.0m
10.3m
12.0m
13.3m
15.0m
16.3m
Longer versions are possible on request thanks to the modular concept.
The machining lengths mentioned above correspond to the respective travel path of the X axis, at a maximum travel speed of 66 m/min.
The positioning accuracy of the X, Y and Z axes is +/- 0.1 mm/m, that of the A and C axes +/- 0.1°.
Maximum spindle speed: 24,000 1/min
Spindle power: 20 kW S1
Tool changer right: 20 tool places (13 standard and 7 special tools)
Tool changer left: one saw blade with diameter 500 mm (400 mm optional).
Maximum cutter diameter: 100 mm
Autonomous clamp positioning with absolute measuring system.
Two separate machining zones allow machining in pendulum mode. Access protection with safety fences and light barriers.
Certified, drive-integrated safety functions
- STO = Safe Torque Off
- SS2 = Safe Stop 2
- SLS = Safely Limited Speed
- SCA = Safe CAMs
eluCloud Industry 4.0 Application
With eluCloud, elumatec offers an industry 4.0 solution that provides the user with a wealth of machine and production data in real time. "Especially on our SBZ 151, which fully supports eluCloud, the solution is in high demand and at the pulse of time", says Felix Schlachter. The advantages are obvious; at any time and theoretically from anywhere, it is possible to see what is currently happening in production or what has happened in production – for example in a certain shift – thanks to individually personalizable reports. Shift supervisors like to use the application frequently. Mr. Schlachter adds: "We are increasingly receiving requests from industry for machine data acquisition, including features such as spindle running times, capacity utilization monitoring, and machine uptime and downtime."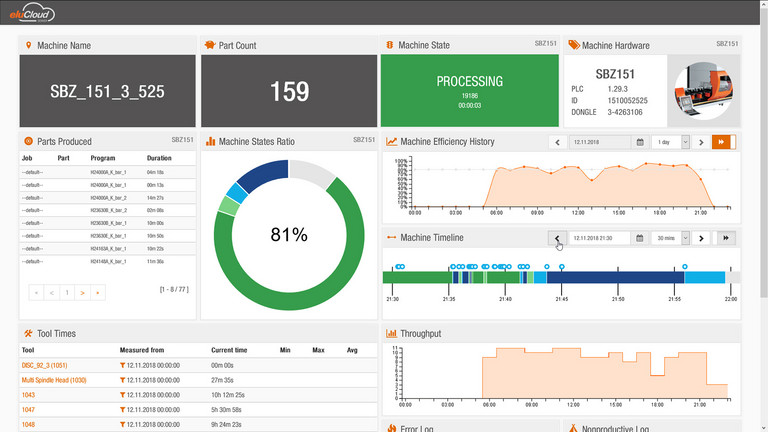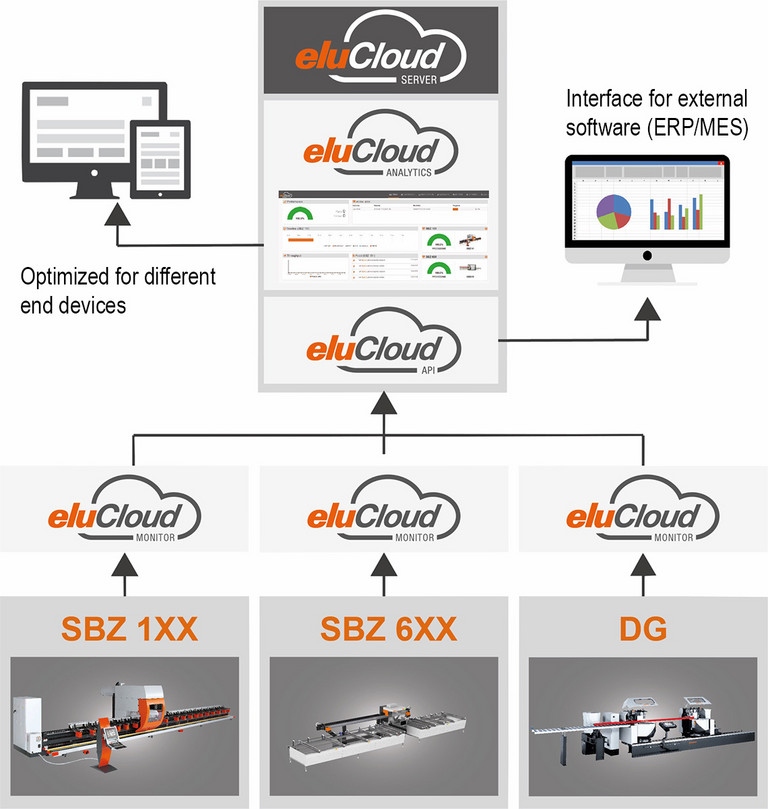 The GUI (graphical user interface) looks very modern, is modular and can be operated intuitively. Reports can be compiled according to individual requirements using simple drag & drop actions. Predefined Excel templates can be imported into the reporting tool via an import function. A filter can be used to limit the data collection, e.g. to a specific shift, machine or weekday.
eluCloud is the joint solution of elumatec and elusoft (a subsidiary company that is based in Dettenhausen, Baden-Württemberg) for machine data acquisition and analysis of this data.
The software consists of four modules:
eluCloud-Monitor (Acquisition of machine data)
eluCloud-Server (Storage and preparation of data for evaluation)
eluCloud-Analytics (Analysis of the data and detailed evaluation)
eluCloud-API (Interface to the machine data pool and already created analyses)
"The switch to Flexium+ came at just the right time. Thanks to the FXServer provided by Flexium+, connecting the SBZ 151 to the eluCloud was relatively simple. Our cloud solution generates added value for the customer in which productivity increases and process optimizations can be achieved", concludes Mr. Felix Schlachter.