Three Flexium+ Systems at the Service of Italian Manufacturing
Invest to grow and then invest again. NUM's long-standing customer Meccanica Ponte Chiese has pursued this strategy ever since the company was founded. It also has a policy of only using MCM-branded machine tools, equipped with NUM CNC systems. This year – a dramatically special year – saw the latest technology investment: an MCM Tank 2600 horizontal machining center equipped with three Flexium+ systems and special handling automation which was also developed by NUM.
Meccanica Ponte Chiese is a typical small to medium-sized Italian company specializing in contract machining for a variety of sectors, and has made technological innovation its strong point. Technological innovation requires initiative and farsightedness – two qualities that the Ferraboli family (consisting of the founder Giovanni, today flanked by his children Gianluca, Mirko and Monica) certainly does not lack – and that cannot disregard the choice of technological partners able to offer high added value over time. For this reason, the history of Meccanica Ponte Chiese is closely linked to that of NUM for all that concerns the supply of numerical controls and to the manufacturer MCM for the supply of machines.
Working in today's marketplace means facing constant challenges, with ever-smaller batches, high levels of customization, and timescales and costs that overlap with those of mass production.
"Our customers are mostly multinationals that are also based in Italy", explains Gianluca Ferraboli, production manager. "This means that in many cases the products we make are destined for plants located all over the world. Often we manage to win an order thanks to the fast delivery times we can guarantee and the quality of our work."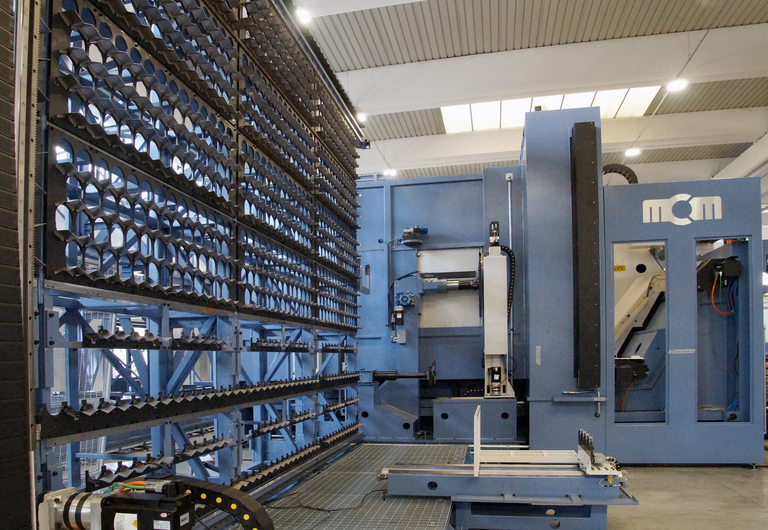 In order to meet market needs, Meccanica Ponte Chiese has been focusing on technological innovation for years. In fact, the eleven MCM machining centers in the Prevalle (Brescia) plant operate 24 hours a day, 7 days a week, thanks to the physical presence of 16 specialized technical workers who cover two shifts and are able to work on all the machines, each managing up to three at the same time. "We can say that we have been acquiring the concepts related to Industry 4.0 for over twenty years, when they were not yet called that and there was no talk of a smart factory", continues Gianluca Ferraboli. "Today, everything that moves in our factory is automated and networked, and the decision to install only MCM-branded machines, all equipped with NUM numerical controls, is also dictated by the fact that, once an operator has been trained, he or she is then able to operate all the systems."
Meccanica Ponte Chiese's latest technological investment – aimed at further reducing cycle times and reaching those market niches that require the machining of large parts (such as the naval sector or those linked to the construction of presses) – once again involves an MCM system. It is a Tank 2600 5-axis horizontal machining center with JFMX automation and management supervisor, built according to the company's specific requirements and equipped with 1,200 tools and 21 pallets of 1250x1250 millimeters with a 50-quintal capacity handled by an automatic shuttle. The machine has been designed to work 24 hours a day and is the first step of a larger system, which includes a second, mirrored machining center that will be installed at a later date.
The system consists of three Flexium+ systems from NUM, namely Flexium+ 68, Flexium+ 8, drives from the MDLUX range complete with Safety functions, and brushless motors from the BPH and BPX ranges. The systems are networked in order to share plant information. A Flexium+ 68 system manages the machining center and the movement of the 1,200 tools. A solution with Flexium+ 8 takes care of the operator workstations. For example, the areas where workpieces are loaded and unloaded – and a second solution, also equipped with Flexium+ 8, manages the pallet handling trolley. As with the other machines, the entire system is linked to a supervisor to manage the production side, i.e. the machining of the parts, the various types of tools and so on. As well as supplying the hardware, NUM was also involved in the total development of the machine automation in this particular case, supplying – according to MCM's specifications – the PLC program for all parts, i.e. the machine, operator stations and trolley/shuttle.
"The main advantage was that we were able to integrate our solution in the best possible way", comments Marco Battistotti, NUM's NTC Italy Director. "Working with MCM once again has allowed us to exploit the potential of the numerical control on the machine to the full. Added to this is the advantage that NUM now has detailed knowledge of the plant and its functionality in terms of maintenance. This is important in order to be able to offer an even better after-sales service.