Cost effective thermoformed parts reworked with high precision CNC milling
The beginnings of Singleplast Wilfred Single GmbH, based in Herford (North Rhine-Westphalia, Germany), date back to the 1920s. The grandfather of the two present-day Managing Directors founded a wholesale business for the furniture industry at that time, which was very strongly represented by many companies in and around Herford. His son Wilfred Single joined the company at the end of the 1940s. In 1961, the company began processing plastics, for which it is now internationally renowned. With the classical deep drawing ("thermoforming"), Singleplast's proven strength, small to medium quantities were and are manufactured on a contract basis. Since 1994, injection molding has also been offered in order to meet the demand for large quantities of parts in the plastics sector.
Put simply: in the thermoforming process, standard thermoplastics such as PS, ABS, PP and PE, but also technical thermoplastics such as PC, POM and PA, are thermoformed - here in sheet form - under the effect of heat from above and below and with the aid of compressed air or a vacuum. In principle, all thermoplastics can be used, with the exception of PVC - this would release toxic hydrochloric acid during deep drawing.
The plastic products resulting from deep drawing are then processed at the CNC machining centers and the final contour is milled. The mostly sharp-edged parts are then usually de-burred manually. Most processes - from thermoforming to milling - naturally take place automatically. But: "However, due to the occasional complex geometries and the high associated programming effort, manual de-burring is much more profitable", says Mr. Andreas Single, one of the two Managing Directors of Singleplast. "Of course, we also follow all topics relating to automation and 'Industry 4.0' with great interest, and we continuously invest in our machinery. In the end, however, an investment must also be profitable", Mr. Single continues.
For CNC machining, Singleplast almost exclusively uses machines in portal or rotary table design from HG GRIMME SysTech GmbH (Wiedergeltingen, Germany), equipped exclusively with drives and controls from NUM. The size of the machine park has increased considerably in recent years. In 2018 alone, four new machines were purchased or replaced by newer, more powerful models, bringing the total number of HG GRIMME CNC milling machines in operation to over 20. Another machining center followed in spring 2019. This ensures that the increasing number of production orders will continue to be executed on time and delivered to the customer in the future. NUM products have been used at Singleplast since the early 1990s.
In addition to current Flexium+ control systems with quad-core industrial PCs, windows 10 operating system and remote control panel, older CNC controls from NUM, such as analog controls from the 1000 series, are also in daily use. Mr. Single adds: "We have been coping with the controls without any problems since the beginning."
Today, Singleplast employs around 150 people at its headquarters in Herford and supplies various branches of industry, including cabin construction for industrial trucks, workpiece carriers and internal transport systems, the vending machine industry, the heating and sanitary industry, as well as manufacturers of healthcare beds and lying areas in hospitals. Singleplast has over 4,500 different workpiece holders available for processing the wide range of parts. Finished parts can also be stored temporarily for the customer in the company's own high-bay warehouse before delivery. In order to meet the quality requirements of its customers, Singleplast has also obtained ISO 9001n certification.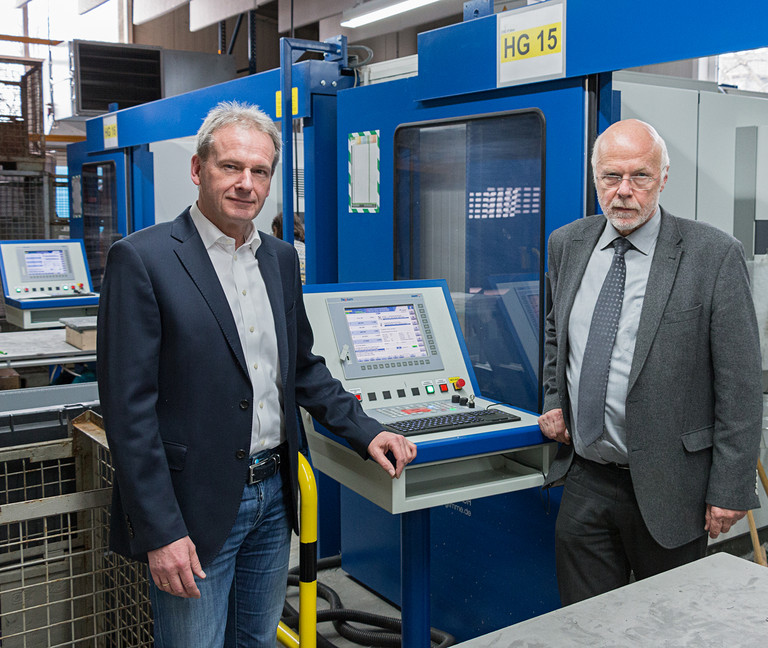 In addition, Singleplast places great emphasis on sustainability, recycling and the resource-saving use of materials. In order to cover its own electricity requirements and reduce CO2 emissions, Singleplast uses its own large photovoltaic system with 1,270 modules. Excess energy is fed into the grid. NUM also practices this at its headquarters in Teufen and its production plant in Italy.
The successful cooperation between machine manufacturers, in this case HG GRIMME SysTech GmbH, and NUM as a specialized supplier, is reflected in the example of the end user Singleplast: as a satisfied customer, the machines have been in use for decades and prove their performance day after day.