Bunorm Maschinenbau Relies on Retrofit
For more than 20 years, Bunorm Maschinenbau AG has relied on CNC controls from NUM AG for its Forest-Liné series of machines. Bunorm provides its customers with the opportunity to purchase small and large single parts, as well as small series or complete assemblies and plants, from one source. Another important competence is its own metalworking shop. With qualified metal workers and welding robots, complete in-house solutions are offered. Awarded numerous certifications, Bunorm is still one of the few machine builders in Switzerland with its own metalworking shop, where welded constructions weighing up to 20 tons are manufactured.
From simple individual parts to complicated assemblies
Bunorm was founded as a family business back to 1965. Its core business was initially mechanical engineering, while nowadays the company focuses on the machining of very large machine parts. In 2020, the company repositioned itself by joining the SwissFactory.Group. This association of innovative SMEs with complementary manufacturing technologies aims to create new market offerings for apparatus, plants and machinery in the B2B sector throughout Switzerland.
Bunorm is represented at two locations in Switzerland and employs over 90 people, including 11 apprentices. In total, the group has 300 employees.
Bunorm Maschinenbau has been active in the field of CNC manufacturing for over 37 years. The company's huge 10,500 m2 production halls contain 45 CNC machines, on which components of up to 60 tons are machined. For comparison: about 10 elephants weigh 60 tons! The dimensions of the workpieces to be machined range from 20 mm to 18 meters. The machining time of a workpiece on the portal machining centers ranges from 15 minutes to 30 hours, depending on the requirements. Most of the work involves single parts of large components, rather than serial production. The components are mainly produced for the mechanical engineering, automation and construction industries. The production of these highly complex parts requires comprehensive technical knowledge, the highest quality standards and sound know-how. This is where NUM comes in, as a reliable and experienced partner in the CNC sector, to help improve the quality and productivity of CNC gantry machining centers.
Over 10,000 programs in the database
Bunorm has used Forest-Liné Seramill and Modumill CNC portal machining centers for more than 20 years. As part of a major retrofit project, the company recently upgraded the machines' CNC systems. A prerequisite of the CNC upgrade was that all functions of the machines could still be utilized and that additional safety adjustments and optimizations could be made. According to Mr. Urs Morgenthaler, CEO of Bunorm, "From the outset, we again chose to partner with NUM, because in our experience they are the best. We have more than 10,000 CNC programs in our production database, so backwards compatibility was a key issue – being able to use the programs on the upgraded machines, without having to carry out extensive reprogramming, saved us a lot of time and money. We have also been able to integrate many new programs very easily, enabling us to further optimize control of the machines."
Bunorm's Department Manager for Mechanical Processing, Mr. Manfred Wiesenfarth, has been responsible for the Forest-Liné machines ever since they were installed. As he points out, "Despite precise work and many years of know-how, occasional malfunctions and defects are part of the job. Years of experience led us to believe that many of these could be eliminated and corrected by the retrofit project. And indeed, since modernization, the machines are much more reliable – and fault monitoring has also improved enormously."
Further time and cost savings resulted from the fact that employees did not need any additional training. Operation of the machines remains much the same. Another advantage of the retrofit was that no new foundations had to be constructed. While the downtime was longer than with a new purchase, one must not forget the structural measures that are necessary with such large processing machines. Existing foundations are much more stable, which puts the downtime due to structural measures into perspective.
Both machines are now equipped with the latest version (4.1.30.00) of NUM's Flexium+ CNC system and MP04 control panels, and the control cabinets have been completely rebuilt by NUM. Each machine has four linear axes (the X and U axes are coupled for the gantry). For this purpose, the spindle heads can be positioned by the C and A rotary axes. Due to the enormous size of the machines, each is installed with six of NUM's largest NUM servo motors.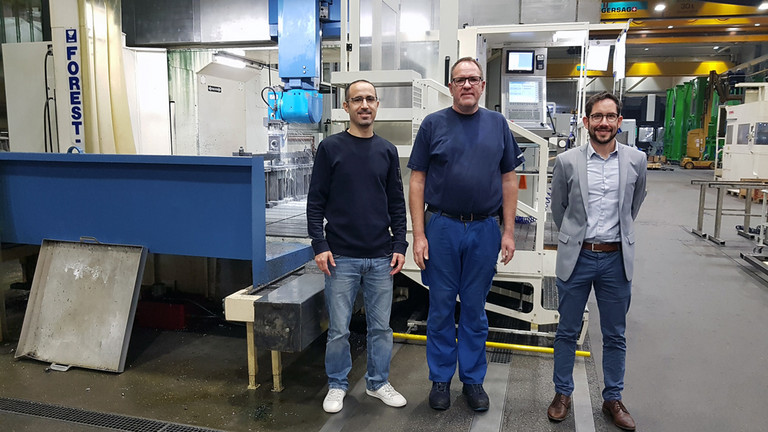 From the control cabinet to the motors and the Human Machine Interface (HMI), NUM was able to offer a one-stop solution. Mr. Morgenthaler and Mr. Wiesenfarth both commented that the entire retrofit project was elegantly implemented by the NUM team. Bunorm particularly appreciated the fact that the project managers were very experienced and competent, and that only a few people were involved. This allowed for efficient planning and communication.
According to Mr. Morgenthaler, "NUM offers the best and easiest way to process inclined planes." This allows the coordinate system can be rotated, so that users can program machining very easily on the sides or across inclined planes.

More automation in the future
Another benefit of the retrofit is automated measurement. This increases the number of workpieces that can be measured in a given amount of time, and by reducing human operator error it increases measurement accuracy. Both reduce scrap and effectively lower costs.
The goal of Bunorm is to realize high spindle hours. In general, increased automation of the machines, such as automated pallet change, should increase efficiency. Since machining some large parts takes longer than one work shift, automation can make shift changes more efficient and avoid time-consuming shift handovers. Most importantly, automation means increased productivity and efficiency. Many manual tasks otherwise performed by machine operators are eliminated by the increased use of fully automated machines. However, the company is keen to emphasize that the benefits of accelerated and automated processes should not be over-estimated, pointing out that behind every piece of automation there is a highly prized human being!