Safety
NUMSafe - the safety architecture of the hardware and software solutions is included by default in the automation and human safety technology.
NUMSafe - the CNC safety architecture (human protection)
NUMSafe provides hardware and software solutions for implementing standard automation and personnel safety technology in the CNC system. These offer a wide range of benefits in terms of enhanced scalability, higher flexibility and reduced wiring needs etc. Flexible architectures, i.e. with a mixture of components which are and are not relevant for personnel safety can be created.
NUM Servo drives equipped with SAMX are of course also integrated into the safety-related circuit.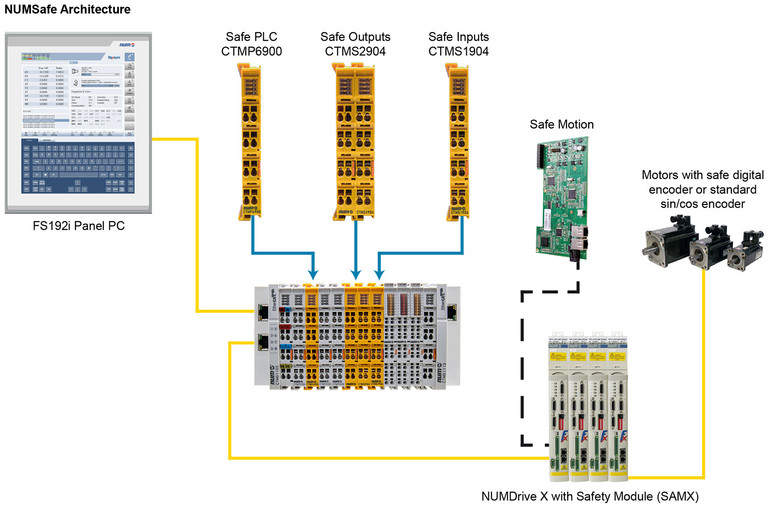 The safety related motion functions are realized inside NUMDrive X and NUM DrivePro by means of the NUM-SAMX board. All safety related information is transmitted via the standard EtherCAT connection, with data reliability ensured by use of a Fail-Safe-over-EtherCAT protocol (FSoE); wiring is reduced to a minimum. NUMSafe meets the standards EN 13849-1 and EN61800-5-2 up to PL e and SIL 3. A special safety PLC monitors the entire machine. The movement functions are monitored via the NUM-SAMX unit which is integrated into the NUMDrive X and NUM DrivePro. The SAMX module, which is responsible for monitoring the axis movements, supports the following monitoring functions:
Safe Torque Off (STO)
Safe Operating Stop (SOS)
Safe Stop 1 (SS1)
Safe Stop 2 (SS2)
Safely-Limited Speed (SLS)
Safely-Limited Position (SLP)